Cottage Cheese Pies with Apples
by Editorial Staff
Curd dough is called false yeast dough – products made from it are just as soft, but such a dough is prepared on the basis of cottage cheese and without yeast, it is easier and always without problems. Today we will cook fried cottage cheese dough pies with a lot of apple filling. The pies are amazing!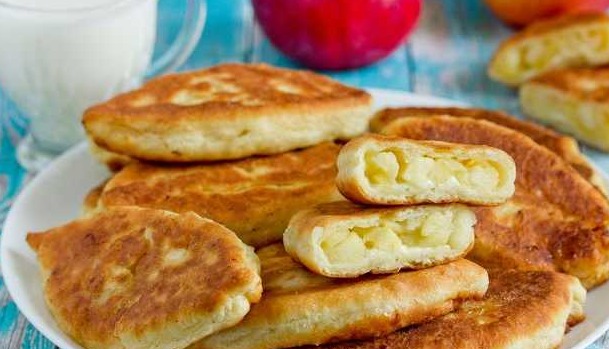 Servings: 12
Cook: 1 hour
Ingredients
For the dough:
Cottage cheese – 200 g
Egg – 1 pc.
Salt – 0.25 teaspoon
Sugar – 1.5-2 tbsp
Flour – 130-150 g + for working with dough
Soda – 0.25 teaspoon.
For filling:
Apples – 4 pcs. (800 g)
Butter – 30 g
Sugar – 60 g
For frying pies:
Directions
Prepare the pie dough first. Transfer the curd to a bowl and add sugar.
Grind cottage cheese with sugar with a spoon. Add egg, salt and baking soda.
Stir the ingredients with a spoon until smooth.
Add flour to the rest of the dough ingredients. Stir with a spoon.

Gather the curd dough with your hand into a ball and stir a little more. The dough will be sticky, soft.
Place the pie dough in a bag and refrigerate while the apple filling is cooking.
Peel the apples, cut the pulp into small cubes.
Melt the butter in a skillet or saucepan. Place the diced apple cubes and simmer over medium heat, stirring occasionally, for about 5 minutes. The apples should soften a little, but don't overdo the stirring intensity and cooking time – we shouldn't be making applesauce!
Transfer the stewed apples from the pan to a sieve or colander. Place a colander on a bowl. Let the apple filling cool to room temperature. During this time, the juice will drain, which is absolutely not needed in the filling for the pies.
So, when the apple filling has cooled down, take the dough out of the refrigerator and on a floured work surface divide it into 10-12 pieces, according to the number of pies.
We form pies.
Take one piece of dough and roll it into a palm-sized cake. Add flour as much as needed. The dough is sticky, but with the help of flour this nuance is eliminated.
Pour sugar in the middle of the rolled flatbread, about 1 teaspoon. without a slide.
Put the apple filling on the sugar, about 1 tablespoon. for one pie.
Fold the edges of the dough over the filling as if you were forming a dumpling.

Turn the apple pie over with the seam side down and press down slightly with your palm. Thus, shape the rest of the patties.
Heat the sunflower oil in a skillet.
Fry the apple cottage cheese pies on a slightly less than medium heat until golden brown.
In this way, fry all the cottage cheese dough pies.
Fried pies with apples are ready.
Bon Appetit!
Also Like
Comments for "Cottage Cheese Pies with Apples"