Cheese Pies with Apples
by Editorial Staff
Magic fragrant pies made of crispy cheese dough stuffed with large slices of aromatic apples – this is a very tasty pastry!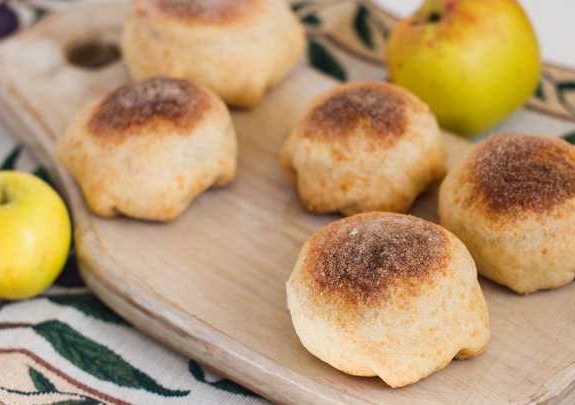 Servings: 7
Cook: 1 hour 20 minutes
Ingredients
For the dough:
Flour – 300 g
Hard cheese – 150 g
Butter – 150 g
Water – 80-90 ml
For filling:
Apples (medium size) – 7 pcs.
Sugar – 80 g
Ground cinnamon – 1 teaspoon
Lemon (for juice) – 0.5 pcs.
For sprinkling:
Butter – 25 g
Sugar – 2 tbsp
Ground cinnamon – 0.25 teaspoon
Directions
Combine flour and sugar, add butter, grated or cut into small cubes. Grind all food into butter crumbs.
Add finely grated hard cheese.

Stir.
Pouring water in portions, knead a homogeneous, soft, non-sticky cheese dough.
Place the dough in the refrigerator for 15 minutes.
Divide the dough into 14 pieces. I got them about 50 g each.
Shape them into balls. Roll each ball into a rounded 2mm thick layer.
Place a puck-shaped apple slice in the center of each.
I peeled the apple, cut it in half across and core it with a core knife. Large apples can be cut into 3 pieces instead of 2.
Combine 80 g sugar and 1 teaspoon. cinnamon, place 1-2 teaspoon in the center of the apple slice. sugar mixture.

Gather the dough carefully and pinch it.
Place the pieces seam side down on a baking sheet lined with parchment paper. Brush with melted butter and sprinkle with cinnamon sugar.
Place in an oven preheated to 180 degrees for 25-30 minutes until browning.
Remove the cooked apple cheese pies and cool.
Bon Appetit!
Also Like
Comments for "Cheese Pies with Apples"