Kefir Pies with Cheese and Ham
by Editorial Staff
Fast, tasty and simple thin cheese dough pies with kefir. We will add cheese not only to the dough, it will also come in handy in the ham filling. These cheese pies with ham are perfect as a hearty breakfast, snack or dinner. Crispy dough and awesome filling!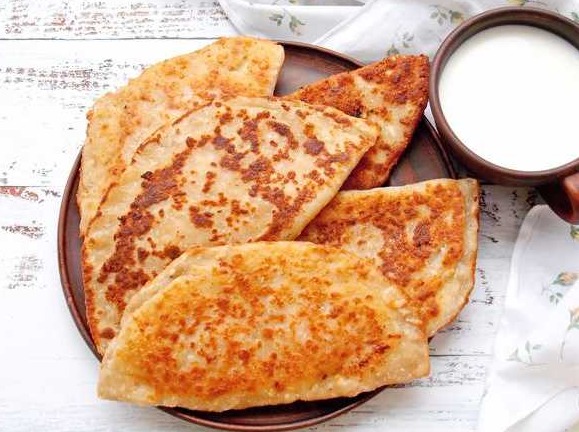 Servings: 5
Cook: 55 minutes
Ingredients
For the dough:
Wheat flour – 350 g
Kefir – 250 g
Hard cheese – 100 g
Sugar – 1 teaspoon
Salt – 1/2 teaspoon
Baking soda – 1/2 teaspoon
For filling:
Ham – 200 g
Hard cheese – 100 g
Ground black pepper (optional) – to taste
Vegetable oil – for frying
Directions
Make kefir cheese dough.
To do this, pour kefir into a deep bowl, add salt and sugar. Stir.
Grate cheese (100 g) on ​​a fine grater and add to the kefir mixture. Stir.
Sift flour there through a fine sieve.
Knead into a soft dough, cover with a towel and leave at room temperature for 10 minutes.
Prepare the filling.
To do this, grate the cheese (100 g) on ​​a coarse grater.

Grate the ham on a coarse grater and add to the cheese.
Toss the ham and cheese. You can add some pepper if you like.
Roll a thick sausage out of the dough and divide into 10 pieces.
Roll each piece of dough into a thin tortilla.
Place some of the filling (about 1/10) on one end of the flatbread.

Cover the filling with the second edge of the flatbread to create a crescent moon. Connect the edges of the dough and press.
Roll the pie with a rolling pin until it is thinner to "seal" the filling.
Blind the rest of the pies in the same way.
Pour oil into a skillet and heat well. Fry the ham and cheese patties over medium heat for about 3-5 minutes on each side, until golden brown.
Place ready-made patties on paper towels to absorb excess oil.

Serve the thin ham and cheese patties warm, with milk, tea, coffee, juice, or simply eat them.
Bon Appetit!
Also Like
Comments for "Kefir Pies with Cheese and Ham"