Fried Cottage Cheese Dough Pies
by Editorial Staff
Curd dough for patties is not often used in home cooking. And in vain, professional chefs assure, since such a dough is incredibly easy to prepare and divinely delicious when consumed. Fried meat pies made from curd dough are very good.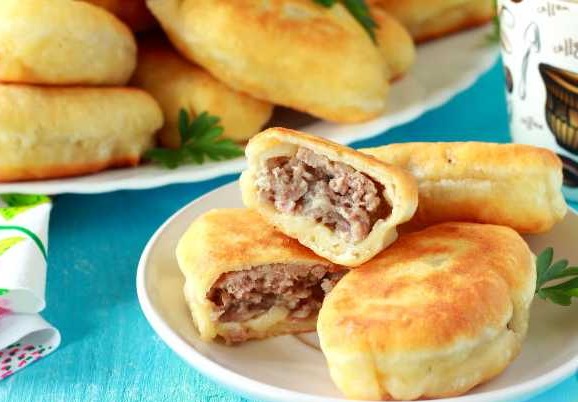 Servings: 8
Cook: 40 minutes
Ingredients
Soft cottage cheese – 250 g
Kefir – 100 g
Eggs – 2 pcs.
Flour – 500 g
Minced meat – 500 g
Bulb onions – 1 pc.
Salt – 1/2 teaspoon.
Ground black pepper – 1 pinch
Vegetable oil for frying – 1 glass
Directions
First, knead the curd dough for the patties. In a deep container, mix kefir with cottage cheese.
Add eggs and stir.

Gradually add the sifted flour and knead the dough until it stops sticking to your hands. After that, let the dough stand a little, 15-20 minutes.
To prepare the filling in the minced meat, add the onions, cut into small cubes, and stir. Do not forget to salt and pepper the meat filling for the pies.
Next, roll the dough into a sausage and divide it into equal pieces. Roll each piece of dough into a small cake.
Place a small amount of minced meat in the center of each tortilla.
Pinch the edges of the patty, forming a scallop, then turn the patty upside down and press lightly.

Heat oil in a skillet and fry the meat pies over low heat on both sides.
Fry each side until golden brown for 4-5 minutes.
Serve hot fried curd pies. You can use sour cream, ketchup or mayonnaise as a sauce for pies.
Bon Appetit!
Also Like
Comments for "Fried Cottage Cheese Dough Pies"