Pies on Choux Yeast Dough
by Editorial Staff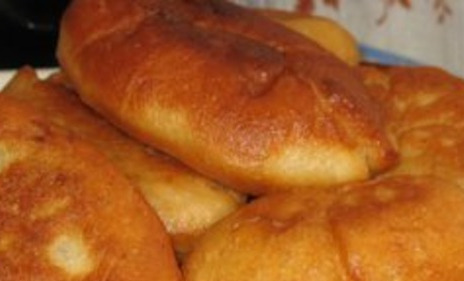 The dough is simply incomparable, delicious. You can not only fry, but also bake in the oven. Fillings can be different: sweet, meat, vegetable. Here the choice is yours!
Ingredients
Stage 1
Salt – 1 teaspoon
Water – 1 stack.
Wheat flour / Flour – 3 tbsp
Sugar – 1 tbsp
Vegetable oil – 3 tbsp
Stage 2
Yeast (fresh, you can use dry saf-moment 17.5 g) – 50 g
Water (not hot boiled) – 1 stack.
Wheat flour / Flour – 500 g
Directions
Stage 1. Combine flour, butter, sugar, and salt. Pour all this with 1 glass of boiling water. Mix well. Allow this mixture to cool.
Stage 2. Add yeast to the warm mixture (I had a dry saf moment of 17.5 g) and a glass of not hot water. The photo shows 2 packs of 11 grams, but only 17.5 grams were used. Add flour in parts. The amount of flour may vary. It took me 500 grams and another 1 tablespoon.
Knead the dough like for pies.
Form the dough into balls and let them dissolve for 5 minutes.
Form pies with your favorite filling and fry in plenty of oil.
Enjoy your meal!
Also Like
Comments for "Pies on Choux Yeast Dough"