Cheese Pies with Chicken (Made from Yeast-Free Dough)
by Editorial Staff
Pies for all pies, pies! Cheese, delicious, yeast-free dough and chicken filling. I don't know about others, we don't have such cheese pies with chicken on the second day! I won't go to sleep until I check it! Cook to your health and enjoy!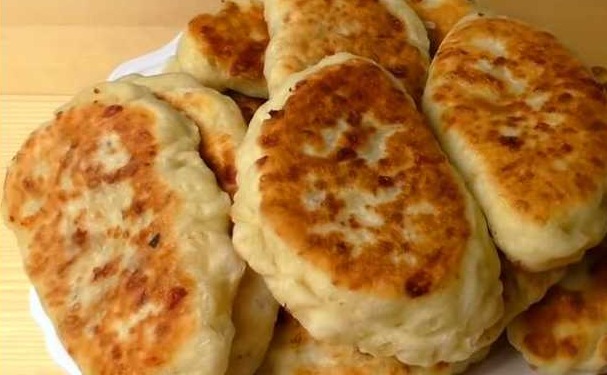 Ingredients
For dough (glass volume 200 ml):
Kefir – 1 glass
Grated cheese (we have homemade mozzarella) – 1 glass
Flour – 2 glasses + for working with dough
Salt – 1/2 teaspoon
Sugar – 1/2 teaspoon
Soda – 1/2 teaspoon
For filling:
Bulb onions – 1 pc.
Chicken legs (boiled) – 2 pcs.
Vegetable oil – for frying
Salt to taste
Ground black pepper – to taste
Directions
We combine all dry ingredients (flour, sugar, salt and soda). We mix.
Add kefir and cheese grated on a coarse grater.
Knead the dough for a few minutes. Then let the dough rest for 20 minutes.
During this time, we will prepare the filling. Chicken legs were boiled in advance.

Fry the peeled onions, cut into cubes, in vegetable oil until golden brown.
Add chopped chicken meat to the onion in a frying pan.
Season with salt and black pepper if desired.
Mix well. The filling is ready.
For the convenience of work, we dust the table with flour.
Roll the dough into a roller.
Divide the dough into equal parts.
We stretch each dough piece by hand into a cake.
Add 1 tablespoon to the cake. a spoonful of filling.
Pinching the edges of the cake, we form pies.

Fry cheese dough pies with chicken in a little oil on minimal heat until golden brown on both sides (under the lid).
Make more dough and cook these homemade pies for health!
Also Like
Comments for "Cheese Pies with Chicken (Made from Yeast-Free Dough)"