Langos Made from Potato Yeast Dough
by Editorial Staff
Langos – fried in butter cakes made from yeast dough. Langos can be prepared in two ways – from simple yeast dough and from dough with the addition of mashed potatoes, i.e. potato dough. We will prepare the last option today. I really liked the potato cakes, they are soft, porous, perfectly fried, hearty and very tasty!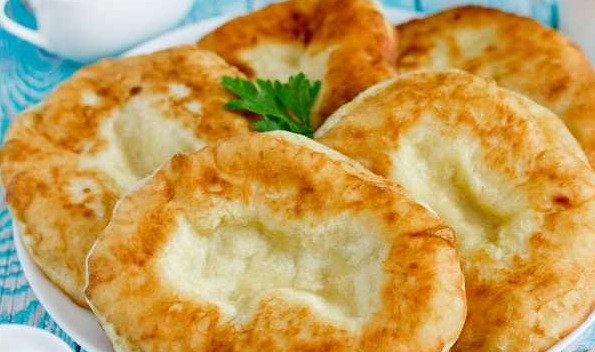 Servings: 3
Cook: 1 hour 50 minutes (your 30 minutes)
Ingredients
Flour – 250-300 g
Potatoes – 3 pcs.
Water (for boiling potatoes) – 500 ml
Salt to taste
Sugar – 0.5 teaspoon
Milk – 100 g
Fresh yeast – 6 g
Garlic for serving – 1 clove
Sunflower oil (for frying) – 100 ml
Sour cream (optional) – to taste
Suluguni cheese (optional) – to taste
Directions
If you have mashed potatoes left over from, say, lunchtime or yesterday, use it. If you don't have mashed potatoes, prepare it first. To do this, peel the potatoes, cut into small slices, rinse, transfer to a saucepan, pour cold water on a level, bring to a boil over high heat, reduce heat, salt and cook until cooked.
Pour the broth from the boiled potatoes into a bowl – you still need it. Mash the potatoes so that no lumps remain.

Now, gradually adding the potato broth, mix the medium consistency puree.
Measure out the required amount of puree (150 g) and let it cool.
When the mashed potatoes have cooled down, move on to making the dough. In a bowl, combine warm milk, yeast, sugar and salt. Stir until the yeast dissolves.
Transfer the mashed potatoes to the milk mixture.
Stir.
Gradually adding flour, knead the sticky dough.
Lubricate the bottom and sides of another bowl with a little sunflower oil, transfer the potato dough into it, cover with a clean kitchen towel and place in a warm place for 1 hour.
After an hour, the potato yeast dough will be ready to go.
Sprinkle the table with flour, lay out the dough. It will be sticky, but the less flour you use to shape the cakes, the softer and more airy they will be. Divide the dough into 4-6 pieces. Form each into an oval flatbread with slightly raised edges and more sunken inside. It is better if you immediately prepare all the cakes so as not to be distracted during the frying process.

Heat enough sunflower oil in a skillet. Place one potato tortilla in butter and sauté over medium-high heat until golden brown.
Flip the tortilla over and fry as well. Langos is fried quickly.
This way, one by one, fry all the potato cakes. While they are hot, brush the surface with garlic.

It is customary to serve langosh to the table with sour cream, sprinkled with grated suluguni cheese. Optionally, you can serve it neat, without sour cream and cheese.
Bon Appetit!
Also Like
Comments for "Langos Made from Potato Yeast Dough"