Croissants From Ready-Made Puff Yeast Dough
by Editorial Staff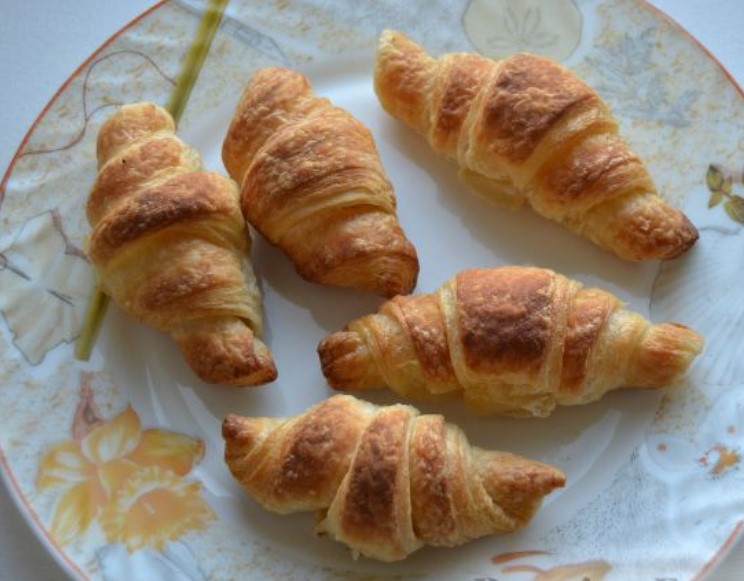 Delicate croissants with a pleasant crispy crust are perfect for your morning coffee. I offer the simplest recipe for croissants from ready-made puff pastry.
Cook: 1 hour
Servings: 5
Ingredients
Yeast puff pastry (ready-made) – 200 g
Flour – for rolling out dough
For the filling (optional):
Thick jam
Dried apricots
Nuts
Directions
I take out the frozen puff yeast dough from the freezer. I put it on the defrosting table. In this case, the dough should be covered so as not to dry out. I slightly roll the defrosted dough with a rolling pin in one direction. I roll out the dough rectangle lengthwise.
Next, I cut the dough into triangles.
I start rolling the croissant at the base of the triangle. With one hand I roll a roll out of the triangle, and with the other hand I slightly pull the top of the triangle. You can put the filling in the croissant. It can be a thick jam, dried apricots or a nut. The filling is always placed on the base of the triangle and then the croissant is rolled up.
I hide the tip of the triangle down the product so that the croissant does not unfold during baking. When folding the turns of dough, I try not to press them tightly together so that the finished croissant is fluffy.

I made five croissants from 200 g of dough. I cover the baking sheet with baking paper, put the cooked products on it at a distance of 2 cm from each other. I cover the baking sheet with croissants with cling film, put it on for proofing for 30-40 minutes in a warm place protected from drafts
I bake croissants at a temperature of 200 ° C for 15-20 minutes. As soon as the croissants are browned, I take them out of the oven.
Bon appetit!
Also Like
Comments for "Croissants From Ready-Made Puff Yeast Dough"