Yeast Buns Made from Potato Dough
by Editorial Staff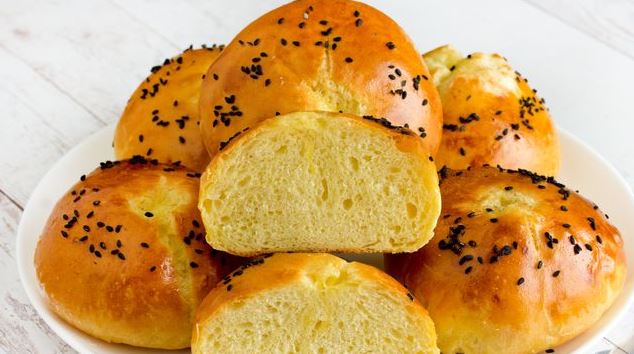 The basis of the yeast dough from which these amazing balls are made is mashed potatoes. The buns are savory and are great for burgers. Also, potato buns are an alternative to bread for the first and second courses. Be sure to cook these crispy potato dumplings with airy crumb!
Cook: 3 hours
Servings: 6
Ingredients
Mashed potatoes – 125 g
Milk – 90 ml
Yolks – 2 pcs.
Butter – 35 g
Flour – 250 g (2 glasses with a capacity of 200 ml) + for working with dough
Dry yeast – 3 g
Sugar – 2 teaspoon
Salt – 0.25 teaspoon
For mashed potatoes:
Potatoes – 160 g (2 pcs.)
Water – 200 ml
For sprinkling on buns (optional):
Sesame (or poppy seeds) – 2 teaspoon
Directions
The basis of the dough will be mashed potatoes. If you have mashed potatoes, say, leftover after dinner, uses that. If not, boil: peel the potatoes, rinse, cut into slices and transfer to a saucepan. Cover the potatoes with water and place on the stove.

When the water comes to a boil, reduce the heat and cook the potatoes until tender, without adding salt.
Drain the broth from the boiled potatoes. Mash the mashed potatoes, adding as much broth as needed to make the mashed potatoes smooth. Make a dough: combine mashed potatoes, warm milk, dry yeast, sugar, and half a glass of flour in a bowl. Stir.
Cover the bowl with a towel and let it sit for half an hour. Melt 25 grams of butter and leave to cool. Add one yolk, melted and cooled butter, salt to the dough. Stir.

Add the remaining flour. Knead a light dough that will hold the shape of a ball. Cover the bowl with a towel and leave in a warm place for an hour.
During this time, the dough has grown significantly! Turn on the oven and preheat to 200 ° C. Sprinkle the table with flour, put the dough on it, and knead a little.
Divide the dough into 6 pieces and roll into balls. Cover them with a towel and leave for 10 minutes. Cover the baking sheet with parchment for baking.
Place the dough balls on a baking sheet. With the bottom of the glass or with your finger, make a depression in the center of each bun. Brush each bun with the yolk.
Now place a small slice of the remaining butter in each cavity and sprinkle the buns with sesame seeds, poppy seeds, or leave without topping. I used black sesame seeds.
Bake the potato buns for about 20 minutes. The potato buns are ready. Homemade yeast buns made from potato dough are very tasty, airy, and mouth-watering.
Bon Appetit!
Also Like
Comments for "Yeast Buns Made from Potato Dough"