Delicious Yeast Dough Buns
by Editorial Staff
Simple but tasty yeast dough buns.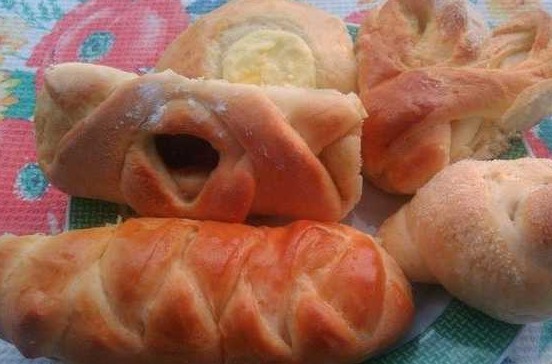 Cook: 1 hour
Ingredients
Milk – 1 glass
Margarine (butter can be used) – 100 g
Eggs – 2 pcs.
Sugar – 60 g (you can and to taste, who loves)
Dry yeast – 1 sachet (10 g)
Flour – 500 g
Vanillin – to taste
Salt – a pinch
Filling for buns (jam, cottage cheese, etc.)
Yolk – for greasing buns
Directions
Heat milk to 35-37 degrees, add sugar, stir until completely dissolved! Add yeast, stir, wait 5 minutes – let the yeast disperse.
Melt margarine (or butter) in a bowl over the fire.
Add melted margarine (butter) to the milk with yeast, eggs, salt, vanillin there. Mix everything well, I do it with my hands.
Add the sifted flour and knead the dough, it should be soft, do not hammer it with flour! By the way, it may take a little more flour, it depends on its quality.
Then put the dough in a warm place, wrap it up and let it rise. As it rises, knead it (stir lightly) and cover again for half an hour.
Further – only your imagination, whoever can!))) I made cheesecakes with cottage cheese, buns with jam and sugar!
Cheesecakes: I rolled the dough into a ball (100 grams), let it come up a bit on the table, took an ordinary faceted glass (who doesn't have a small mug), made a depression with the bottom of the glass in the middle. I put the filling (crushed the curd with a fork, added an egg, sugar, mixed well). Greased the top of the cheesecake with an egg – and put the yeast dough buns in the oven until golden brown!
Bon appetit to everyone!
Also Like
Comments for "Delicious Yeast Dough Buns"