Yeast Dough Buns
by Editorial Staff
I suggest baking delicious homemade buns. Yeast dough with sour milk. In general, this is a very good dough, suitable for both pies and rolls, it contains just everything in moderation – both muffins and sugar. The yeast buns are fluffy and delicious.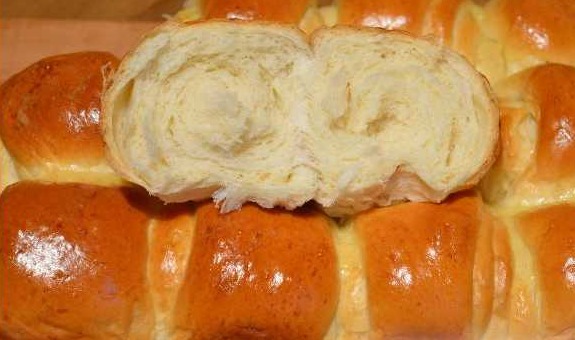 Ingredients
Sour or fresh milk, kefir (heat to 35-40 degrees) – 300 ml
Flour – 600 g
Salt – 2/3 teaspoon
Sugar – 4 tbsp
Vanilla sugar – 1 sachet
Live yeast – 20 g
(or 8-10g dry yeast)
Chicken eggs – 2 pcs. (one for dough and one for greasing buns)
Vegetable oil – 1 tbsp
Butter – 50 g + for greasing the mold
Directions
Sour milk or kefir is slightly warmed up to a warm state (35-40 degrees). This can be done in the microwave.
Add yeast, 2 tablespoons of sugar and 5-6 tablespoons of flour there from the total amount of flour according to the recipe.
Stir, cover and let the yeast activate. It will take about 15-20 minutes. A characteristic foam should appear on the surface.
When the yeast is activated, add the rest of the sugar, salt, vanilla sugar, egg and vegetable oil. We mix.
Sift a large half of the flour there and knead the sticky dough, which is already held in a lump, but still sticky enough to knead with your hands.
Add butter, melted until warm (butter should not be hot, but slightly melted and warm). Stir it into the dough.
Add the remaining flour and knead the soft, non-sticky dough. You may need a little more flour or a little less.
Put the dough in a bowl, cover and place in a warm place to rise (if the yeast is fresh and the dough is in a warm place, it will take about 30 minutes).
The dough should increase 2-3 times.
The risen dough must be kneaded once and left in the bowl again to rise.
When the dough rises a second time, we form buns.
Divide the dough into 12 balls (that is, we get 12 buns). Roll each ball into a long cake.

Then fold the cake in half lengthwise and roll it into a roll.
Alternatively, the rolled cake can be greased with soft butter or simply sprinkled with sugar, and then rolled into a roll, then the dough in the bun will be like a puff. You can also add raisins to the dough.
We spread the buns from the yeast dough on a baking sheet, greased with butter or lined with baking paper.
Cover the rolls with a towel (cling film) and leave for proofing for 20 minutes.

Grease the risen buns with a scrambled egg.
We put the yeast buns to bake in an oven preheated to 160-170 degrees for 30-35 minutes.
When the buns are browned, remove. If you are not sure if the buns are ready, try piercing them with a wooden skewer. If the skewer is dry, then ready. Don't bake the buns so they don't get dry.
We take the finished buns out of the oven and let them cool.
Homemade buns made from yeast dough are fluffy and tasty. Bon Appetit!
Also Like
Comments for "Yeast Dough Buns"