Milk Buns Made from Yeast Dough
by Editorial Staff
This recipe produces delicious milk rolls with a thin crispy crust, creamy taste and aroma! The recipe for yeast dough is successful, it rises well, the buns are easily molded and fly away instantly when finished!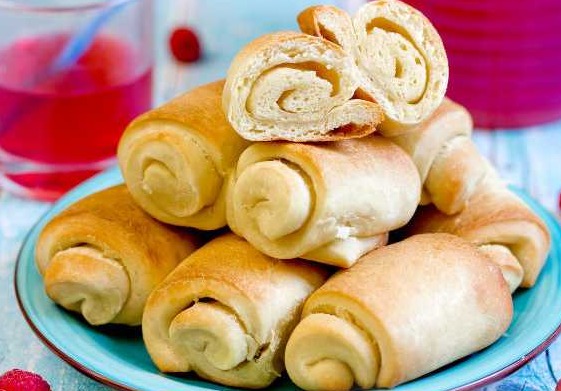 Servings: 12
Cook: 2 hours 40 minutes
Ingredients
For dough:
Milk – 65 ml
Sugar – 1 tbsp
Dry yeast – 1 teaspoon.
For the test:
Milk – 70 ml
Butter – 30 g
Egg – 1 pc.
Sugar – 1 tbsp
Flour – 300 g
Besides:
Directions
For dough, mix 65 ml of warm milk, 1 tablespoon. a spoonful of sugar and 7 g of dry yeast. Leave the dough for 10 minutes, until the foam appears.

In another bowl combine 30 g butter, 70 ml milk and 1 tablespoon. a spoonful of sugar, heat until mixing.
Pour the dough into the milk-cream mixture, mix with a whisk and beat in the egg. Whisk the mixture again.
Sift 300 g of flour and add to the liquid base.
Knead to a smooth dough that easily holds the shape of a ball.
Cover the bowl with a clean towel and let the dough rise in a warm place for about an hour and a half.
Pound the matched dough on the table without additional flour, roll it into a rectangle. Brush the dough with melted or soft butter.
Cut the dough into rectangles (10-12 pieces).

Roll the dough rectangles into rolls and place them on a baking sheet or in a baking dish. Cover and leave for 20 minutes to proof.
Then bake yeast dough buns in an oven preheated to 180 degrees. The buns are ready in about 20-25 minutes.

Cool the finished homemade buns before serving.
Bon Appetit!
Also Like
Comments for "Milk Buns Made from Yeast Dough"