Honey Yeast Buns with Milk
by Editorial Staff
Delicious and aromatic yeast dough buns. The dough is prepared with the addition of milk, honey and melted butter. These mini buns are perfect for a buffet table or as bread. They can also be supplemented with jam, butter, condensed milk and served with tea or coffee.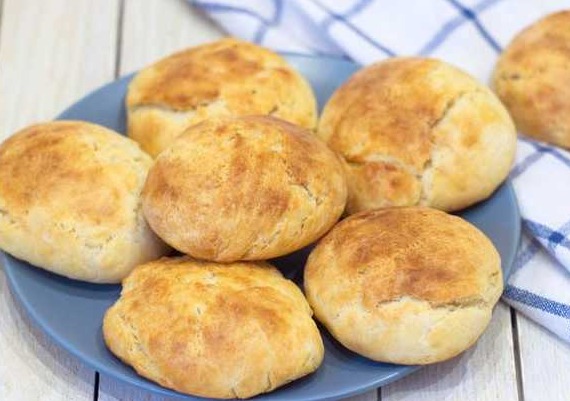 Servings: 3
Cook: 2 hours 30 minutes
Ingredients
Milk – 180 ml + for greasing buns
Melted butter (softened) – 20 g
Honey (liquid) – 1 teaspoon
Sugar – 1 teaspoon
Flour (preferably "Extra") – 250 g (2 glasses with a capacity of 200 ml) + for working with dough
Dry yeast – 4 g
Salt – 1 pinch
Directions
Prepare the food you need.
It is better to take bakery flour of "Extra" grade, but if there is none, take premium flour. You may need a little less flour or a little more than indicated in the ingredients.

Heat the milk to a temperature of 36-37 degrees. Add honey, sugar and yeast to warm milk. Stir until honey, sugar and yeast are completely dissolved in milk.
Pour the milk mixture into a bowl of flour. Stir. Add softened ghee. Stir.
Knead into a soft, homogeneous dough and assemble into a neat ball, adding a little flour if necessary.
Cover the dough with a cloth towel and place in a warm place for 30 minutes.
Divide the dough into about 70g pieces, shape into balls and place on a baking sheet lined with parchment paper.
Place the formed buns in a warm place for 30 minutes to proof.

Brush the matching buns with milk and put in the oven, preheated to 180 degrees, for 15-20 minutes.
Remove the finished buns from the baking sheet and cool.
Honey yeast buns with milk are ready! Bon Appetit!
Also Like
Comments for "Honey Yeast Buns with Milk"