Yeast Buns with Kefir, with Boiled Condensed Milk
by Editorial Staff
Soft, airy and delicious homemade buns stuffed with boiled condensed milk are something special! Kefir yeast dough is prepared on the basis of brewed dough, it is very pleasant to work with. Households will be delighted with such wonderful pastries!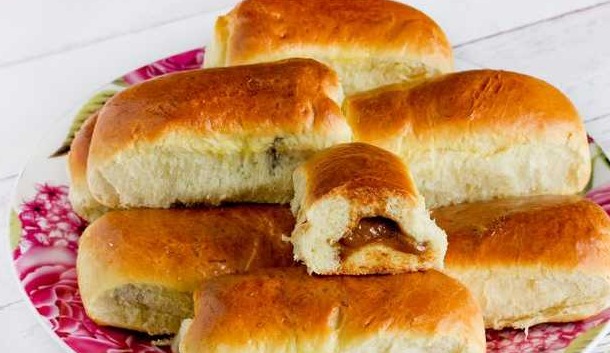 Servings: 10
Cook: 2 hours 40 minutes
Ingredients
Boiled condensed milk – 250 g
Kefir – 125 ml
Water (boiling water) – 100 ml
Sugar – 60 g (2 tablespoons + 1 teaspoon)
Dry yeast – 8 g (2 teaspoon)
Flour – 350 g (2 cups with a capacity of 250 ml + 1 tablespoon with a slide)
Egg (small) – 1 pc.
Sunflower oil – 30 ml
Butter – 15 g
Salt – 1 pinch
To grease buns:
Yolk – 1 pc.
Milk – 1 tbsp
Directions
In a large bowl, combine 0.5 tablespoon. tablespoons of sugar and 1 tablespoon. a spoonful of flour from the total volume. Pour in boiling water and knead to a smooth, sticky dough. Leave the dough base for 3 minutes.

Then pour in kefir at room temperature and mix thoroughly.
Pour in dry yeast.
Stir. Cover the dough bowl with a clean kitchen towel and let sit for 12-15 minutes.
The finished dough should slightly increase in volume, become fluffy and foamy.
Pour the remaining sugar into this dough, pour in sunflower oil and beat in an egg (one small or half large). Stir the dough base.
Then add flour and 1 pinch of salt and use your hands or the hook of the kitchen machine to knead until smooth.
Add a piece of soft butter to the dough.
Knead the dough again until it starts to come off your hands. Form the dough into a lump, cover the bowl with a clean tea towel and let the dough rise in a warm place for 1 hour.
The dough, ready for molding, should double in volume.
Knead the dough and divide into 10 pieces.
Form buns. To do this, take one piece of dough and roll it into an oval cake.
Put boiled condensed milk in the middle of the flatbread.

Tie the edges of the dough together so that you have an oblong bun.
Shape the rest of the buns in the same way. Transfer the buns to a baking sheet lined with baking parchment or a silicone mat, or place them in a baking dish (I have a silicone one). Leave the buns to stand in a warm place for another 20 minutes.
Preheat the oven to 180 degrees.
Brush the matching buns with a mixture of milk and yolk.
Bake buns with condensed milk in an oven preheated to 180 degrees for 25 minutes.
Cool the finished buns on a wire rack.

Yeast rolls with kefir, with boiled condensed milk, ready to serve.
With milk, tea or coffee, buns with boiled condensed milk will scatter in an instant!
Bon Appetit!
Also Like
Comments for "Yeast Buns with Kefir, with Boiled Condensed Milk"