Wafer Rolls with Boiled Condensed Milk in Chocolate Glaze
by Editorial Staff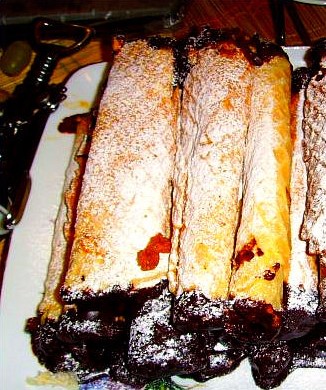 Wafer rolls with boiled condensed milk in the chocolate glaze are my favorite delicacy)))
Ingredients
Margarine (melt) – 1 pack (250 g)
Eggs – 5 pcs.
Sugar – 1 glass (200 g)
Flour – 1 cup (150 g)
Water – 2 tbsp
Powdered sugar – 150 ml (by volume)
Cocoa powder – 150 ml (by volume)
Melted butter – 1 tablespoon (20 g)
Directions
Mix eggs with sugar, add flour, then pour in melted margarine, stir, bake.
As soon as you remove the waffle sheet from the waffle iron, immediately put the boiled condensed milk and wrap it in a roll, otherwise, the sheet will freeze and the waffle tube will break.
Chocolate glaze. Heat 2 tablespoons of water in a bowl, sift 150 ml of powdered sugar there, and 150 ml of cocoa powder there. When it boils, pour in 20 g of melted butter.
When the tubes are baked, dip both sides in the icing, place the wafer rolls on a plate, and sprinkle with icing sugar.
Also Like
Comments for "Wafer Rolls with Boiled Condensed Milk in Chocolate Glaze"