Chocolate "Sausage" with Condensed Milk
by Editorial Staff
This dessert is familiar to many people since childhood. Rich chocolate flavor combined with cookie crumbs will impress neither adults nor children. Do you want to make a sweet "sausage" at home?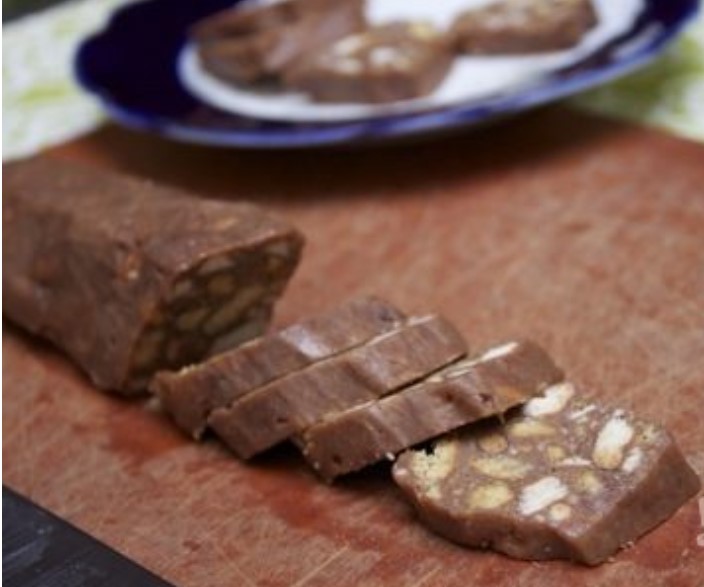 Cook: 2 hour
Servings: 6-8
Ingredients
Cookies – 500 Grams
Butter – 200 Grams
Condensed milk – 400 grams
Cocoa – 2 Art. spoons
Directions
Place cookies in a deep bowl. You can use the most common and inexpensive tea cookies.
Grind with your hands to make a crumb with noticeable pieces. If you use a blender, for example, the cut sausage will not be so beautiful. So the pieces are definitely needed!
One more nuance with butter: it should be softened, but not melted.
Again, gently mix the cookies and butter with your hands until smooth.
Add cocoa in the process. Now our base is becoming really chocolate.
It remains only to add condensed milk and mix everything well.
Prepare a sheet of parchment. You can sprinkle it with powdered sugar. Place the chocolate mass on the parchment, shape into a sausage and gently wrap it in the parchment.

Finished sausages should be sent to the refrigerator for a couple of hours so that they freeze well.
Carefully remove the parchment and cut the sausage into slices. Here is such an amazing dessert.
Enjoy your tea!
Also Like
Comments for "Chocolate "Sausage" with Condensed Milk"