Donuts on Condensed Milk
by Editorial Staff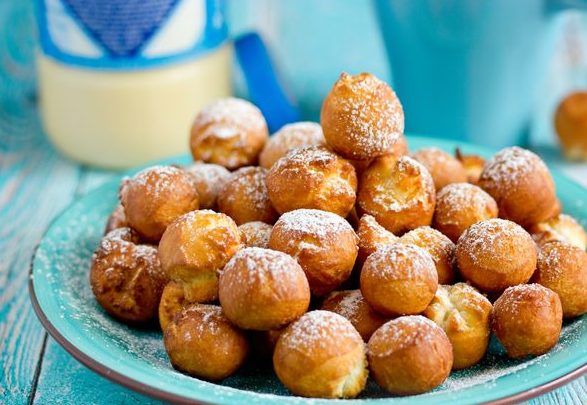 Ruddy balls made from condensed milk dough are a great option for a tasty treat for tea or coffee! Such donuts are made quickly, they are fried even faster, the only thing is that these donuts must be in mini-format so that the dough has time to fry inside. Be sure to try!
Ingredients
Flour – 150-175 g (1 glass)
Condensed milk – 100 g
Egg – 1 pc.
Baking powder – 0.5 teaspoon.
Salt – 1 pinch
Refined sunflower oil (for deep fat) – 160 ml
Powdered sugar – 1 teaspoon
Directions
We prepare all the necessary ingredients.
Pour the condensed milk into a bowl.
Break the egg into the condensed milk and add salt. Mix the ingredients with a whisk until smooth.
Sift flour with baking powder directly into this mixture.
Knead the plastic dough, wrap it in foil and let the dough rest for 15 minutes.
Then knead the dough on the table without additional flour, divide it into three parts.
Roll these three pieces of dough into thin sausages and cut into small pieces, about 1.5-2 cm long.
We roll balls from these pieces. Let me remind you that we no longer use flour, the dough behaves so well, does not stick either to the hands or to the table.
All balls must be prepared before starting toasting donuts. Heat the sunflower oil in a saucepan or other dish. Fry donuts in small batches over medium heat until golden brown.
Put the finished donuts on a napkin as they fry.
When all the donuts are ready, put them on a plate and sprinkle with powdered sugar.
Condensed milk donuts are ready to serve.
Bon Appetit!
Also Like
Comments for "Donuts on Condensed Milk"