Condensed Milk Cupcakes with Cream
by Editorial Staff
Delicious muffins with condensed milk, with sour cream filling and a fluffy cream cap with cream cheese, are a real treat for those with a sweet tooth! Such cupcakes will decorate your festive table, because they look spectacular and elegant. A worthy replacement for the cake!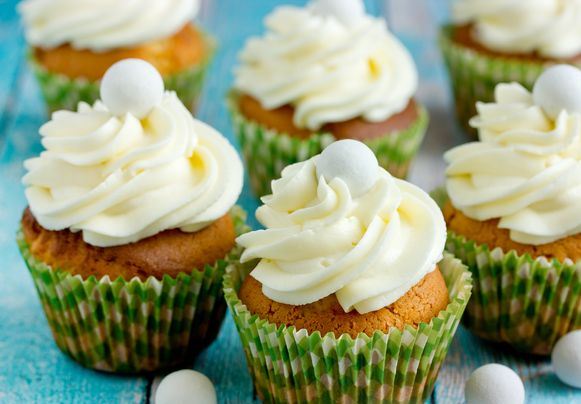 Ingredients
Condensed milk – 300 g
Chicken eggs – 2 pcs.
Butter – 30 g
Flour – 200 g
Baking powder – 2 teaspoon.
Salt – 0.25 teaspoon
*
For filling:
Sour cream 20-25% – 200 g
Powdered sugar – 40 g
*
For the cream:
Cream cheese – 250 g
Butter – 125 g
Powdered sugar – 100 g
Directions
Pour the condensed milk into a bowl.
Beat eggs into condensed milk and pour in melted and cooled butter. Also add salt.
Beat the combined ingredients with a mixer for about 1 minute.
Combine flour with baking powder and sift into a bowl with the rest of the ingredients.

Use a mixer at slow speeds to knead the cupcake dough.
Line muffin cups with paper capsules. Divide the dough into the tins. This makes 12 cupcakes in total.
To bake muffins on condensed milk should be in the oven, preheated to 180 degrees, for about 35 minutes. Remove the finished muffins from the oven and let them cool completely.
Then, using a fruit core cutter, remove a piece of crumb from each cupcake to create a hole about halfway up the cupcake height.
Whisk sour cream with powdered sugar. Place the sour cream in the cupcakes.
To make cupcake cream, whisk room temperature butter with powdered sugar and cream cheese. The cream for the cupcakes should be fluffy and smooth.
Place the cream on each cupcake, forming the caps in two turns. Optionally, cupcakes can be additionally decorated with berries, confectionery sprinkles, sweets or grated chocolate. What is also important, cupcakes can be stored in the refrigerator, because the cream is stable and keeps its shape well.
Also Like
Comments for "Condensed Milk Cupcakes with Cream"