Donuts with Condensed Milk and Coconut
by Editorial Staff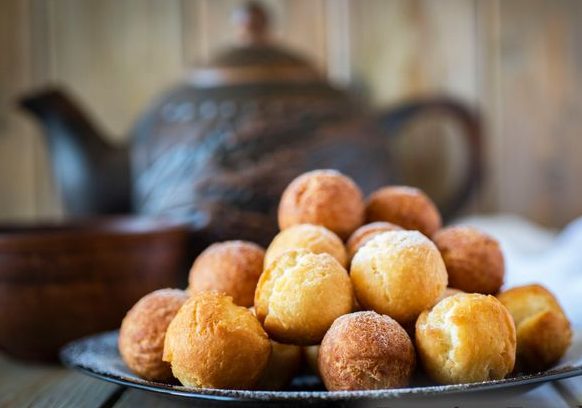 Fans of "Bounty" will be interested in a simple recipe for incredibly delicious donuts with condensed milk and coconut flakes. Small donuts with a bright coconut flavor go well with tea or any other drink. Condensed milk makes donuts sweet, and coconut flakes add exotic notes to the delicacy!
Ingredients
Flour – 350 g
Condensed milk – 190 g
Coconut flakes – 50 g
Eggs – 2 pcs.
Vanillin – 1 pinch
Baking powder – 8 g
Salt – 1/3 teaspoon
Vegetable oil for frying – 400-600 ml
Directions
Roll eggs into a bowl, add vanillin and condensed milk.
Mix the contents of the bowl actively with a mixer or whisk.
Let's fill up all the coconut flakes. Let's mix.
We begin to sift the flour in parts, kneading the dough first with a spoon, and then with our hands.
The dough should be soft and elastic, should not stick to your hands. Wrap the dough in food-grade plastic and refrigerate for 15 minutes.
Then we tear off a piece from the dough, rested in cool conditions, and roll it into a flagellum.
Cut the flagellum with a knife into equally small pieces.
Let's roll balls out of these pieces of dough. This is how we deal with the whole test.
In a skillet, heat the vegetable oil well (it took me 400 ml) over medium heat and lower the batch of balls. Turning the donuts over with a spoon, wait until they are golden brown.
Put the donuts on a plate using a slotted spoon. Sprinkle the coconut donuts with powdered sugar if desired.
Donuts have a distinct coconut flavor.
Bon Appetit!
Also Like
Comments for "Donuts with Condensed Milk and Coconut"