Condensed Milk Bagels
by Editorial Staff
Many people like bagels for tea or with milk. Homemade bagels with condensed milk are healthier than purchased ones, besides, they are prepared simply.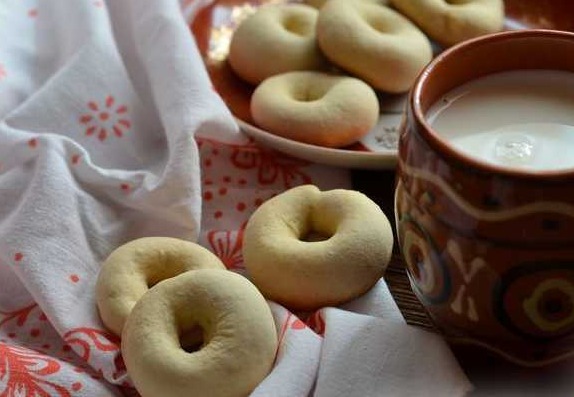 Ingredients
Wheat flour – 500 g
Condensed milk – 200 ml
Eggs – 2 pcs.
Soda – 5 g
Citric acid – 5 g
Yolk (for greasing bagels) (optional) – 1 pc.
Vegetable oil – for greasing the baking sheet
Directions
Pour condensed milk into a bowl and add eggs one at a time, stirring the mass.

Mix the ingredients well with a spoon or whisk.
Quench soda with citric acid, add to a bowl with condensed milk and eggs.
Sift flour and pour in small portions into a bowl, stirring the dough well.
Knead a soft, elastic dough. Do not add all the flour at once, you may need less of it.
Divide the dough into equal parts (I got 25 pieces) From each piece, form a "sausage" about 10 cm long, then fasten the edges, forming a donut ring.

Place the bagels on a greased baking sheet at a short distance from each other. If desired, the bagels can be brushed with whipped egg yolk.
Bake the bagels on condensed milk in an oven preheated to 180 degrees for 10-15 minutes. Be guided by your oven; the bagels should brown a little.

Homemade bagels with condensed milk are ready. Cool them a little and can be served. Immediately they are soft, the next day they become denser.
Bon Appetit!
Also Like
Comments for "Condensed Milk Bagels"