Cake "Caramel" with Condensed Milk
by Editorial Staff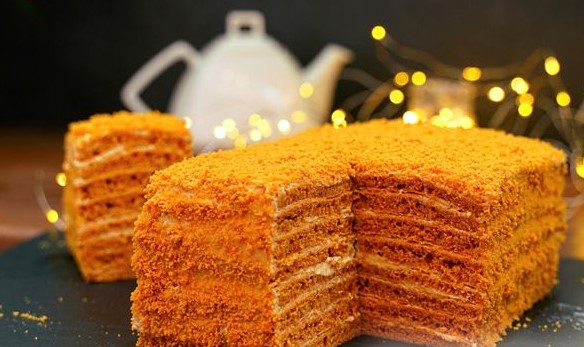 Super fast and insanely delicious "Caramel" cake, which will take you 30 minutes to prepare. A cake with soft and tender cakes and buttercream with the addition of boiled condensed milk, similar to the taste of Creme brulee ice cream, will not leave anyone indifferent!
Cook: 30 minutes
Ingredients
For the dough:
Eggs category C0 – 3 pcs.
Flour – 220 g
Boiled condensed milk – 300 g
Butter (melted, room temperature) – 50 g
Baking powder – 10 g
Salt – a pinch
For the cream:
Cream 33% or fat sour cream (chilled) – 500 g
Boiled condensed milk – 80 g
Vanilla sugar – 10 g
Directions
Turn on the oven to heat up to 180 degrees.
Beat eggs with salt for 3-4 minutes (until fluffy). Add melted butter (room temperature). Stir lightly.
Add boiled condensed milk in three rounds to eggs and butter. Mix.
Mix flour with baking powder and add to the dough in three approaches, stirring with a spatula.
Divide the dough into 2 equal parts, weighing 370 g. Quickly spread the dough in a thin layer on a baking sheet (size 29×39 cm) with parchment or silicone baking mat.
Bake each cake at 180 degrees for 6-8 minutes, until tender (it may take a little more or less time, depending on the oven and the thickness of the cake).

Carefully remove the finished cakes. Do not stack them on top of each other, so as not to stick!
While the cakes are cooling, prepare the cream.
Whip the chilled cream with vanilla sugar. To prevent the cream from splashing, you can cover the mold with cling film and make a small hole for the mixer.
Remove the film. Add boiled condensed milk to the whipped cream, beat until thick. Carefully, just do not over-beat, otherwise, you will get oil!
Put the finished cakes on top of each other and cut off the edges. Grind the cakes with a blender or coffee grinder.
Cut each cake into 2, 3, or 4 pieces. (I got 8 cakes measuring 13×17.5 cm)

Smear the cake with cream.
Put the second cake on top and coat with cream again.
Repeat with the remaining crust and cream.

Spread the cream on the top and sides of the cake.
Sprinkle the cake with crushed crumbs (you can use peanuts). Refrigerate for 2-3 hours to soak the cake.
Bon Appetit!
Also Like
Comments for "Cake "Caramel" with Condensed Milk"