Cake "Potato" with Condensed Milk
by Editorial Staff
If you are going to prepare a dessert, then remember that the favorite delicacy in childhood was the Potato cake, which goes well with tea, milk and coffee. It is tasty and inexpensive. Try it!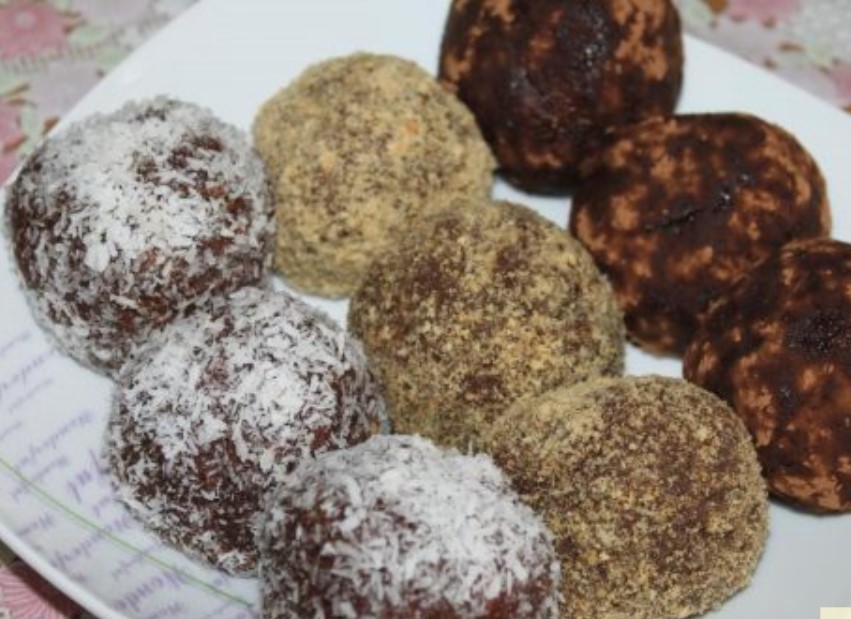 Cook: 5 hour
Servings: 11
Ingredients
Cookies – 800 Grams
Butter – 250 Grams
Condensed milk – 1 Piece (bank)
Cocoa – 5 Art. spoons
Milk – 1 Glass
Sugar – 1 Teaspoon
Coconut flakes – To taste
Cocoa – To taste
Directions
Before making a cake potatoes with condensed milk, take a cookie (800g) and grind it into crumbs using a blender (meat grinder).
Take a small saucepan and pour a glass of milk into it. Put on low heat and add a teaspoon of sugar to the milk. Heat slightly, stirring constantly. After the sugar has dissolved and the milk is warm, remove it from the heat and pour it into the cookie crumbs. Mix thoroughly.
Melt the butter over low heat. Then add the melted butter to the crumb-milk mixture.
Take one jar (bag) of condensed milk and add it to the previously formed mixture. Mix everything well.

Prepare the cocoa. Add five tablespoons. Then place it in the milk and cream mixture. Mix everything thoroughly.
Then roll the balls with your hands. This amount of ingredients makes 11 large cakes. Then sprinkle each cake with coconut or cookie crumbs; cocoa. Refrigerate for 4 hours. Everythingb is ready. You can try.
Bon appetit!
Also Like
Comments for "Cake "Potato" with Condensed Milk"