Milk Jelly with Watermelon and Condensed Milk
by Editorial Staff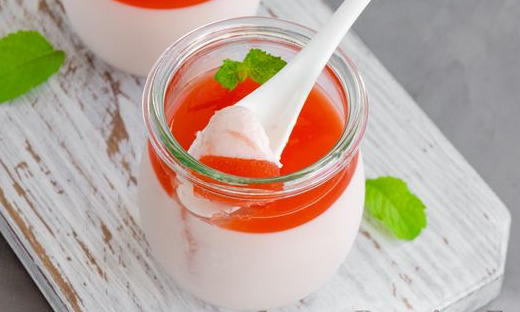 Watermelon can serve not only as a delicious stand-alone treat but also as an ingredient for many interesting and colorful dishes. Milk and watermelon jelly is prepared simply, it turns out to be very tender, with a pleasant creamy taste.
Cook: 3 hour
Servings: 5
Ingredients
Milk – 500 ml
Seedless watermelon pulp – 200 g
Condensed milk – 150 g
Gelatin – 20 g
Sugar – 20 g (or to taste)
Cold boiled water – 100 ml
Directions
Pour 15 g of gelatin with 75 ml of cold water. Leave to swell for 5-10 minutes.
Grind 100 g of watermelon pulp with a blender in mashed potatoes.
Pour the milk into a saucepan and bring to a boil over low heat. If you use UHT milk, then it is enough to heat it until it is hot.
Let the boiled milk cool slightly and add the swollen gelatin to it. Stir well to dissolve the gelatin.
Add condensed milk and watermelon puree. Stir.

Strain the resulting mass through a fine sieve and let cool to room temperature.
Pour the jelly into glasses, bowls, or dessert jars. Send it to the refrigerator for 1.5-2 hours so that the jelly begins to solidify.

Pour 5 g of gelatin with the remaining water (25 ml) and leave to swell for 5-10 minutes.
Heat the swollen gelatin in a steam bath or in the microwave until dissolved. Do not bring to a boil!
Chop the remaining pulp of the watermelon in mashed potatoes. Combine it with gelatin and sugar. Stir.
Strain the resulting mixture through a sieve.
Pour the watermelon jelly over the milk layer. Send the dessert to the refrigerator until it hardens completely, for at least 2-3 hours, or better overnight.
Milk jelly with watermelon and condensed milk is ready.
Bon Appetit!
Also Like
Comments for "Milk Jelly with Watermelon and Condensed Milk"