Condensed Milk Jelly with Chocolate
by Editorial Staff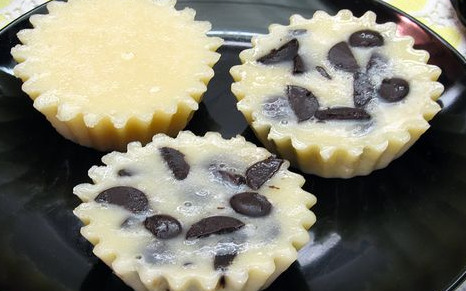 Fragrant and delicate condensed milk jelly is a very tasty delicacy from a minimum of products. Pieces of dark chocolate very well set off the delicate taste of condensed milk. Making condensed milk jelly is very simple!
Servings: 4
Ingredients
Condensed milk – 320 g
Gelatin – 10 g
Chocolate or chocolate drops (optional) – 25-50 g
Water – 100 ml
Directions
Pour gelatin into a saucepan or a saucepan with thick walls, pour 100 ml of water. Leave to stand for 5-7 minutes, then put on fire.
We heat the gelatin over low heat for 3-4 minutes until the gelatin is completely dissolved, stirring all the time and dissolving the lumps. You do not need to bring it to a boil.
When the gelatin dissolves, add the condensed milk.

Mix everything thoroughly with a whisk until smooth for about 2 minutes and remove from heat. The mixture should not boil.
Pour a mixture of condensed milk with gelatin into silicone or ordinary molds.
Let it cool to room temperature. I got 4 jelly molds. I threw 25 g of chopped chocolate into 2 molds, and I left the rest of the molds just with condensed milk. But if you wish, you can add chocolate to all the molds.

We remove the jelly molds in the refrigerator for 2-3 hours, until they solidify.
We take out the finished frozen jelly from the condensed milk from the molds (you can first put them in hot water for a few seconds) and serve.
Bon Appetit!
Also Like
Comments for "Condensed Milk Jelly with Chocolate"