Cupcakes with Kefir and Condensed Milk
by Editorial Staff
If you add condensed milk to the dough on kefir, the muffins will turn out to be moderately sweet. A ruddy crust, airy, porous structure and citrus aroma of muffins are a guarantee of a pleasant tea drinking.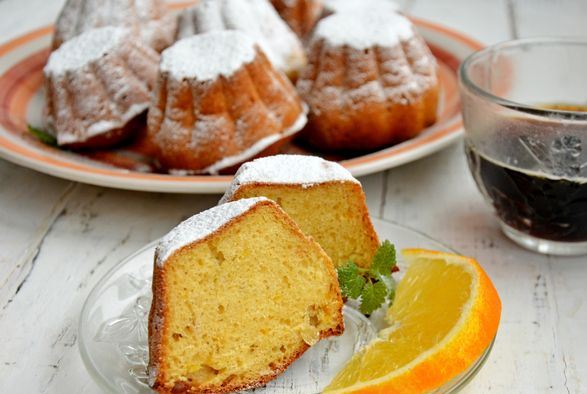 Ingredients
Kefir – 100 ml
Condensed milk – 80 g
Eggs – 2 pcs.
Sugar – 1 tbsp
Flour – 130 g (1 glass with a capacity of 200 ml)
Raisins – 50 g
Orange (zest) – 0.5 pcs.
Baking soda – 1 teaspoon
Salt – 1 pinch
Butter or vegetable oil – for greasing the mold
Powdered sugar – for decoration
Directions
Prepare all ingredients. Rinse and dry the raisins. As additives, you can use not only raisins, but also other dried fruits, as well as candied fruits, frozen berries and nuts.
Combine eggs, sugar and kefir in a deep bowl. Stir.
Add the condensed milk, mix thoroughly again with a whisk.
Add flour and baking soda. Knead the dough until smooth.
Use a fine grater to remove the zest from the half of the orange. Try to remove only the top orange layer of the rind (the white layer will taste bitter in the muffins).

Add raisins and zest to the dough. Mix everything again.
Grease silicone muffin molds with butter or vegetable oil.
Fill the forms two-thirds full (or better half – the dough rises perfectly).
Place the tins with the dough in an oven preheated to 180 degrees and bake the muffins for 25-30 minutes, until tender.
Cool the finished muffins completely on the wire rack. For serving, I garnished the muffins with powdered sugar. You can also garnish them with grated nuts or berries, drizzle with honey or icing.
Ready-made muffins with kefir and condensed milk can be served on the table both cooled and warm. They go well with tea, coffee, milk.
Airy, porous structure, golden brown crust and excellent taste – what else do you need for a good dessert?
Also Like
Comments for "Cupcakes with Kefir and Condensed Milk"