Kefir Cupcake
by Editorial Staff
The classic kefir cupcake is a hassle-free, fast and at the same time wonderful baked goods made from simple products, which will be appropriate at any tea party, whether it is a quiet family holiday or sudden gatherings with friends. The crust of kefir cake is very tender and slightly moist. Kefir dough muffins can be prepared in one large pan, or you can bake small portioned muffins.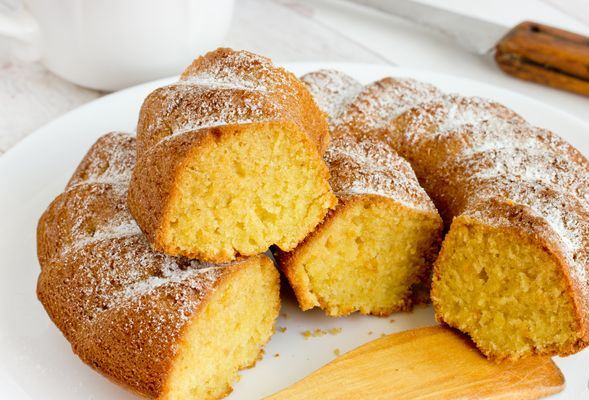 Cook: 45 mins
Servings: 4
Ingredients
Kefir 2.5% fat – 120 ml
Butter (soft) – 100 g
Egg – 1 pc.
Sugar – 90 g
Baking soda – 0.5 teaspoon
Flour – 130 g (1 glass with a capacity of 200 ml)
Salt – a pinch
Powdered sugar (optional) – for sprinkling on the cake
Directions
Prepare the required ingredients. The butter should be warm – remove it from the cold beforehand. If everything is ready, immediately turn on the oven to heat up to 180 degrees.
In a bowl, combine egg, soft butter and sugar.
Beat them with a mixer until smooth, creamy.
Warm the kefir slightly, add soda to it and stir. The kefir will foam immediately.
Pour the kefir foam into a bowl of egg butter cream.

Stir the mixture with a mixer at a slow speed.
Mix flour with salt and sift into a bowl with the base of the dough.
Stir in a smooth dough on a slow mixer speed.
Pour the dough into a mold. I used a round silicone mold with a notch in the middle, I didn't lubricate it with anything.
Bake the muffin on kefir in an oven preheated to 180 degrees for about 30-35 minutes.
Remove the finished cake from the mold and let the baked goods cool.

Sprinkle the cooled muffin with icing sugar, icing, or garnish with fresh berries if desired.
Kefir cupcake is ready to serve.
Also Like
Comments for "Kefir Cupcake"