Condensed Milk Donuts
by Editorial Staff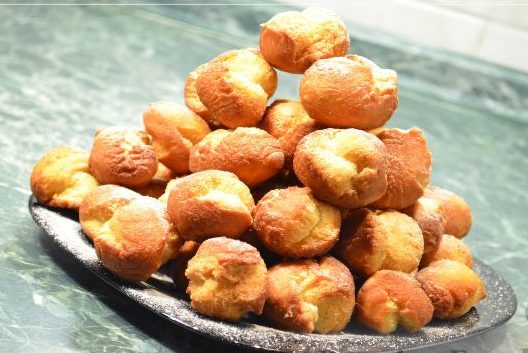 The recipe for baking condensed milk donuts is very simple. Donuts according to this recipe can be cooked in 20 minutes, they always come out with a thin crispy crust, and inside – tender and airy.
Ingredients
Wheat flour – 700 g
Condensed milk – 400 g
Soda – 0.5 teaspoon.
Salt – 0.5 teaspoon.
Sunflower oil – 500 ml
Eggs – 4 pcs.
Directions
Combine eggs with salt, add baking soda, condensed milk, and stir.
Gradually add sifted flour to the mixture and stir.
Then put the dough on the table surface and knead thoroughly so that the dough does not stick to your hands.
Wrap the dough in plastic wrap and leave for 30 minutes.
After that, divide the dough into 4 parts, roll out "sausages" from each part with a diameter of about 2 centimeters. Divide each "sausage" into pieces 1.5-2 centimeters long.
Then roll a ball out of each piece of dough.
Heat the sunflower oil in a deep saucepan and lower the donuts. Fry over medium heat, stirring constantly, until golden brown (about 2-3 minutes).
Put the finished donuts in condensed milk on paper towels to get rid of excess fat.
Condensed milk donuts are ready.
Bon Appetit!
Also Like
Comments for "Condensed Milk Donuts"