Curd Cheesecake with Condensed Milk
by Editorial Staff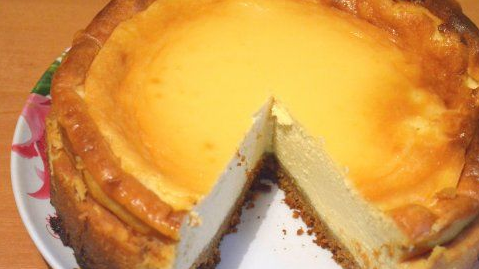 This curd cheesecake is worth trying at least once. It has a very delicate taste with a pronounced condensed milk aroma and a hint of baked milk. It is easy to prepare (almost all the work is done by a blender), and the result is great.
Ingredients
Cookies "Baked milk" – 300 g
Butter – 150 g
Cottage cheese – 800 g
Condensed milk – 0.5 l
Chicken eggs – 6 pcs.
Directions
Grind the cookies into small crumbs using a blender or rolling pin. Add melted or very well-melted butter to it. We mix.
Preparing the form. (It is better to use a solid form. If the form is split, then wrap it in foil.)
We distribute the sand mass over the entire surface of the bottom of the mold. We tamp, forming a cake.
Using a blender, grind everything at once: cottage cheese, condensed milk, and eggs.

You should get a smooth, creamy mass.
Pour the curd mass onto the prepared cake.
We put to bake in the oven, preheated to 200 degrees, and bake for 30 minutes. Then we reduce the temperature to 170 and bake for another 30-40 minutes, depending on the desired brownness of the cake.
After an hour, the cake will settle – this is normal.
Two hours after baking, the curd cheesecake will look the same as in the photo.

Let the cheesecake with condensed milk sit in the refrigerator for at least 6-8 hours. The cake is especially delicious on the second or third day.
Curd cheesecake with condensed milk is ready. Bon Appetit!
Also Like
Comments for "Curd Cheesecake with Condensed Milk"