Cheesecakes Stuffed with Boiled Condensed Milk
by Editorial Staff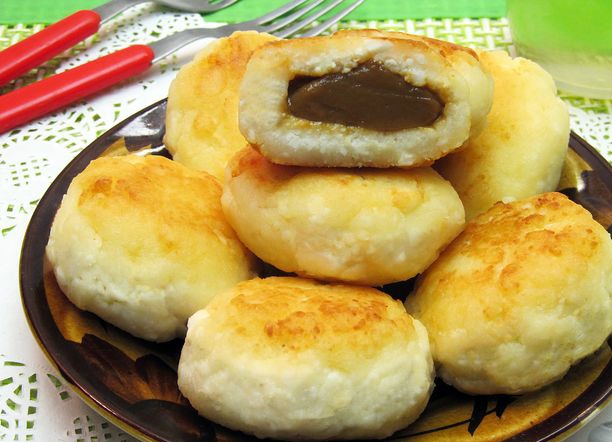 Cheesecakes without flour, with semolina and a delicious "surprise" inside – stuffed with boiled condensed milk. Semolina in the syrniki makes them incredibly tender.
Ingredients
Cottage cheese (preferably dry) – 500 g
Condensed milk boiled – 160 g
Semolina – 130 g
Sugar – 60 g
Salt – 1/3 teaspoon
Vanillin – 1/4 teaspoon
Flour (for rolling) – 30-40 g
Vegetable oil (for frying) – 50 ml
Directions
We prepare products according to the list. It is best to prepare such cottage cheese pancakes from dry cottage cheese. Combine cottage cheese, semolina, sugar, salt and vanillin in a bowl. Mix thoroughly and leave for 10 minutes so that the semolina swells a little.

We take about 1/10 of the curd mass (from the indicated amount of products I got 10 medium-sized cheesecakes) and form a cake with wet hands. Put about 1 teaspoon of condensed milk in the middle. We fold the edges of the cake to the middle so that the filling is inside and form a cheesecake. Lightly roll the cheesecake in flour. Thus, we form the rest of the cheese pancakes.
In a frying pan, heat half the vegetable oil and fry the cheese cakes over low heat for about 3 minutes on each side, until golden brown. Add vegetable oil as needed. Put the prepared cheesecakes stuffed with boiled condensed milk on a plate and serve, preferably warm.
Bon Appetit!
Also Like
Comments for "Cheesecakes Stuffed with Boiled Condensed Milk"