Quick Biscuit Roll with Boiled Condensed Milk and Nuts
by Editorial Staff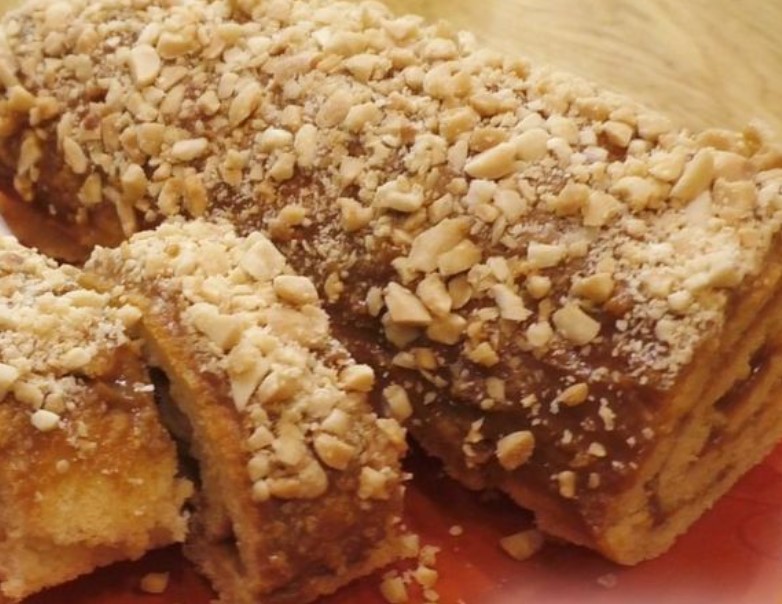 This recipe for a quick but delicious biscuit roll will help you out whenever you want to enjoy fresh, aromatic homemade cakes, as well as treat your guests to them! Try to make a nut roll with condensed milk – it's not difficult at all, but very, very tasty!
Cook: 25 mins
Servings: 8
Ingredients
Eggs – 4 pcs.
Flour – 1 glass
Sugar – 2-3 tbsp
Baking powder – 10 g
Salt – 1 pinch
Boiled condensed milk – 1 can
Roasted peanuts – to taste
Directions
Biscuit dough is very easy to prepare. First you need to beat eggs with a mixer with sugar and salt for 2-3 minutes.
Add the sifted flour with baking powder and beat with a mixer at a lower speed for 1-2 minutes.
Pour the batter onto a prepared baking sheet lined with parchment paper. Spread the dough evenly and give it a rectangular shape.

Bake the sponge cake in an oven preheated to 180 degrees for about 15 minutes. After the cake is baked, wrap it hot in a roll with a towel, as shown in the photo.
After about 5 minutes, after the cake has cooled slightly, unfold and separate from the parchment paper. Thoroughly coat the biscuit cake with boiled condensed milk and gently roll into a roll.
Coat the top of the biscuit roll with the rest of the boiled condensed milk. Sprinkle the roll with condensed milk liberally with fried nuts, which must be chopped in advance.
A quick biscuit roll with boiled condensed milk and nuts is ready! Before serving a roll with condensed milk to the table, trim off unsightly edges and get ready to receive compliments from guests!
Bon Appetit!
Also Like
Comments for "Quick Biscuit Roll with Boiled Condensed Milk and Nuts"