Wafer Rolls with Boiled Condensed Milk (in a Pan)
by Editorial Staff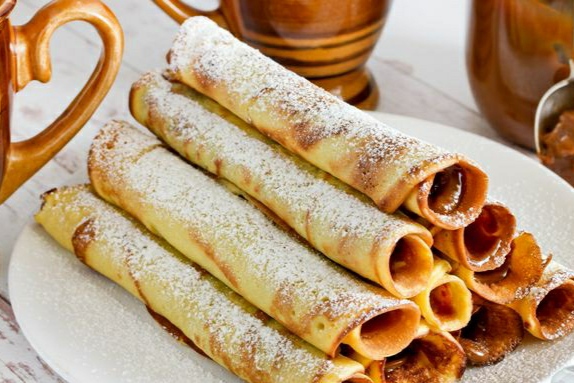 If you do not have a waffle iron, and eating crispy rolls oh as a hunt is not a problem! Delicious waffles can be cooked in a pan! Greased with boiled condensed milk and rolled into tubes, these waffles will become a wonderful dessert for all those with a sweet tooth!
Cook: 25 minutes
Servings: 3
Ingredients
Flour – 90 g
Eggs – 3 pcs.
Butter- 100 g
Sugar – 100 g
Vanillin – 2 pinches
Salt – a pinch
Vegetable oil (for frying) – 3-4 tbsp
*
For filling and serving (optional):
Boiled condensed milk – 12 tbsp
Powdered sugar – 1/2 tbsp
Directions
Break eggs into a deep bowl, add sugar, salt and vanillin. Beat the eggs into a lather with a whisk or mixer.

Melt the butter – either in a saucepan over low heat, or in the microwave (in a ceramic or glass bowl without gilding and metal, at a minimum power of 2-3 doses for 10-15 seconds, stirring each time). Then let the melted butter cool. Pour the cooled melted butter into the egg mixture. Beat with a whisk or mixer for about 10-15 seconds.
Then pour over the flour. Knead to a homogeneous dough. The consistency of the dough will turn out to be not thick, but pouring: it will flow from the spoon like pancake dough.

Grease the frying pan with a little vegetable oil and heat well. Pour 1-1.5 tablespoon into the bottom of the pan. spoons of dough and spread to make a thin cake like a pancake. Fry the waffle over a low-medium heat for about 30-40 seconds. Then turn over and grill until golden brown.
Transfer the finished waffle to a plate and immediately, without being distracted by the preparation of the second waffle, grease with boiled condensed milk. Gently roll the filled waffle into a tube. In this way, fry and roll the rest of the waffles. In total, I got 12 wafer rolls with condensed milk.

Put the finished waffles on a plate "house" and sprinkle with powdered sugar. Wafer rolls with boiled condensed milk are ready to serve.
Enjoy your meal!
Also Like
Comments for "Wafer Rolls with Boiled Condensed Milk (in a Pan)"