Chocolate Royal Cheesecake with Boiled Condensed Milk and Prunes
by Editorial Staff
Chocolate royal cheesecake with condensed milk and prunes is an incredibly delicious dessert. Chocolate crumbly dough is succinctly combined with the most delicate mass of cottage cheese and boiled condensed milk. And prunes make the taste of the royal cheesecake even richer and brighter. Try to cook, this delicacy will definitely win you over.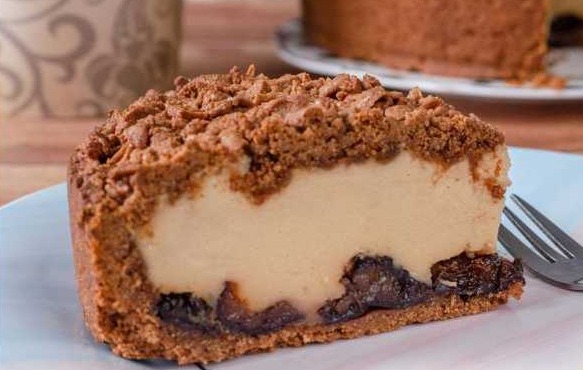 Servings: 6
Cook: 1 hour 30 minutes
Ingredients
For the dough:
Flour – 220 g
Butter – 120 g
Sugar – 50 g
Sour cream 20% – 50 g
Cocoa powder – 20 g
Baking dough – 1 teaspoon
For filling:
Curd 9% – 400 g
Boiled condensed milk – 200 g
Eggs – 2 pcs.
Pitted prunes – 150 g
Corn starch – 25 g
Directions
Melt the butter and cool slightly.
Pour cocoa powder into warm butter and mix.

Sift flour with baking powder into a separate bowl and mix thoroughly.
Add sour cream and sugar to the flour mixture.
Pour in cocoa and butter.
Knead the non-sticky dough.
We wrap the fourth part of the whole dough with cling film and send it to the freezer.
Cover the bottom of the split form (18 cm in diameter) with parchment paper.
From most of the dough we form the base of the pie with sides. We send to the refrigerator.
We turn on the oven to heat up to 190 degrees.
Add boiled condensed milk to the cottage cheese and drive in the eggs.
Grind the mass with an immersion blender until smooth.
We introduce starch and mix thoroughly.
Cut the prunes into small random pieces.
We take out the form with the dough from the refrigerator. Distribute prunes on the bottom of the dough base.

We spread the curd mass there and slightly trim the sides of the dough base with a knife.
Rub the frozen piece of dough on a coarse grater.
We spread the grated dough on the curd mass.
We bake a royal chocolate cheesecake with boiled condensed milk and prunes in the oven for 50 minutes.

Let the finished chocolate royal cheesecake with boiled condensed milk and prunes cool slightly in the mold. Then take the cheesecake out of the mold and cool completely on the wire rack.
Enjoy your tea!
Also Like
Comments for "Chocolate Royal Cheesecake with Boiled Condensed Milk and Prunes"