Condensed Milk Pie
by Editorial Staff
I know the recipe for dough with condensed milk for a long time, since then, when condensed milk was still milk … 🙂 Therefore, I will immediately allow myself some advice – buy only GOST condensed milk for a pie or roll.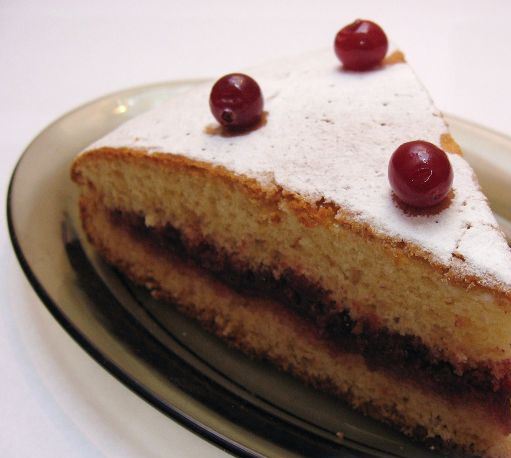 Ingredients
Condensed milk – 1 can (380 g)
Eggs – 2 pcs.
Flour – 1 cup, slightly incomplete (130 g)
Starch (desirable, but if not, just add another spoonful of flour) – 1 tbsp (30 g)
Soda – 3/4 teaspoon.
Lemon juice or vinegar (for soda) – a few drops
Fruit filling: jam, jam, pureed berries or fruits (sweet and sour) – 1-2 cups (300-400 g)
Powdered sugar and berries (for decoration) – to taste
Directions
Preheat the oven to 175-180 degrees. Beat the eggs lightly (this is not necessary – you can immediately combine the eggs with condensed milk).
Add condensed milk and mix until smooth (you can beat with a mixer, or you can manually).
Add sifted flour with starch, stir. Add soda quenched with lemon juice or vinegar. Stir the dough and place in a greased baking dish (or on greased baking paper in a baking dish).
Bake the cake with condensed milk until golden brown, about 25-35 minutes (I like that the inside of the cake is not light, but baked well and becomes darker, but this is a matter of taste).

As for the fruit and berry filling, here everything is to your taste and desire. This pie contains a mixture of mashed cranberries and cherry jam. It can be plums, very tasty with mashed apricots, but the main thing is that the filling should be sour and not too liquid.
Cut the cooled condensed milk pie into two cakes. Grease one cake with jam or fruit and berry puree, cover with the second cake and decorate as you like. The easiest way is to sprinkle with powdered sugar through a strainer and lay on top of the berries (for example, cranberries).
Also Like
Comments for "Condensed Milk Pie"