Curd Jelly with Condensed Milk and Tangerines
by Editorial Staff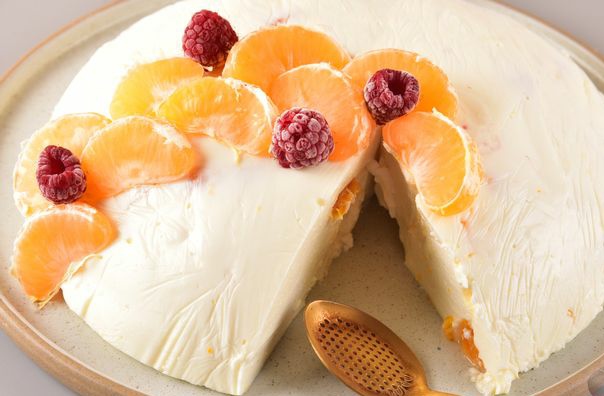 Jelly dessert with tangerines is prepared on the basis of cottage cheese and condensed milk. Tasty and healthy!
Ingredients
Mandarins – 3 pcs. (250 g purified)
Cottage cheese 5% fat – 500 g
Condensed milk – 350 g
Water or milk (for soaking gelatin) – 350 ml
Gelatin – 30 g
*
For decoration:
Mandarin – 1 pc.
Frozen or fresh berries – several pieces
Directions
Pour over instant gelatin with milk or water and leave for 5 minutes. Peel the tangerines, cut into slices and remove the white films. Put cottage cheese and condensed milk in a deep bowl. Punch with a blender until smooth.

Heat gelatin and dissolve, but do not boil. This can be done in a water bath or in the microwave at minimum power in pulses for a few seconds. Add gelatin to the mass of cottage cheese and condensed milk. Mix. Add tangerines, stir. Cover a form or salad bowl of a suitable size with cling film. Pour the resulting mass into a mold and refrigerate for at least 2 hours.
Transfer the finished cottage cheese dessert to a dish, free from the film and decorate to your liking. I garnished with tangerine wedges and frozen raspberries.
Bon Appetit!
Also Like
Comments for "Curd Jelly with Condensed Milk and Tangerines"