Milk Jelly with Tangerines (on Agar-Agar)
by Editorial Staff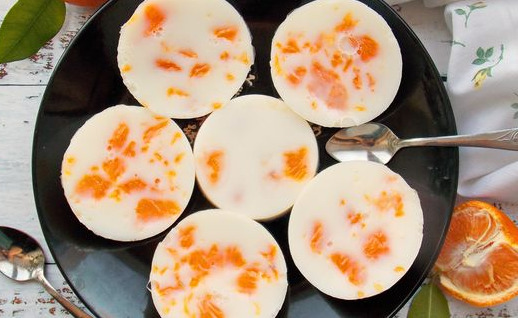 According to this recipe, light milk jelly with tangerines is prepared not with gelatin, but with agar-agar. Sweet and sour tangerine pieces perfectly set off the delicate taste of milk jelly. This dessert will be a wonderful treat for children and adults.
Cook: 3 hour
Servings: 5
Ingredients
Milk – 360 ml
Mandarins – 3 pcs.
Agar-agar – 8 g (1 teaspoon)
Sugar – 60 g
Water – 360 ml
Directions
Pour cold water into a saucepan and add agar-agar, stir and let stand for 20 minutes.
Place a saucepan over medium heat and bring the agar water to a boil. Add sugar, stir and cook over medium heat for 3 minutes, stirring occasionally.
Heat the milk and in a thin stream, stirring occasionally, pour it into a pan of agar. Bring to a boil, remove from heat and let cool slightly.
Wash tangerines, peel, and disassemble into slices. Peel each slice of white film and cut it into two parts.
Divide the tangerine pieces into silicone molds.

Pour the milk mass into the tangerine tins. Agar hardens at room temperature, but you can put the jelly in the refrigerator for 2-3 hours to harden and cool the dessert.
Remove the jelly from the molds. Milk jelly with tangerines is ready to serve.
Bon Appetit!
Also Like
Comments for "Milk Jelly with Tangerines (on Agar-Agar)"