Marshmallow on Agar
by Editorial Staff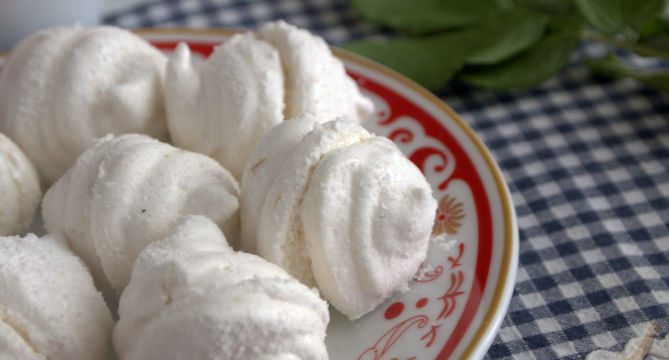 Very delicate, appetizing, and easy-to-make marshmallow that every housewife can make. This recipe uses agar-agar. It helps natural sweetness to keep its shape well, makes marshmallows light and healthy.
Ingredients
Apples – 4 pcs.
Agar – 10 g
Egg white – 1 pc.
Sugar – 250 g for apples and 450 g for agar
Citric acid – 1 g
Directions
We prepare the ingredients according to the recipe for homemade marshmallows with agar-agar.

How to cook marshmallow on agar: Pour 150 ml of purified water into a saucepan, add agar, mix the components. We are waiting for 60 minutes.
We peel the apples. Shred in small segments, lay out in a mold. Cook until soft – bake in the oven at 180 degrees for 20-30 minutes.
Grind ready-made apples until puree.
Add 250 g of sugar, beat the mass with a blender or food processor.
Add raw protein to the mass.
We heat the mixture on agar, stirring it constantly, add 450 g of sugar. Prepare the syrup until it "stretches" (5-10 minutes).
Beat the apple-protein mass until fluffy. We introduce a pinch of citric acid.
Pour the sweet mass with agar into a bowl with an apple blank.
Bring the mass to homogeneity using a mixer. Make sure the mixture becomes thick and fluffy.
We place the blank in a culinary bag, form a marshmallow. We are waiting for 20-24 hours.

Sprinkle the finished marshmallow on agar with icing sugar.
We glue two marshmallows together.
Homemade marshmallow on agar-agar is ready
Bon Appetit!
Also Like
Comments for "Marshmallow on Agar"