Fermented Baked Milk Jelly with Sour Cream (on Agar-Agar)
by Editorial Staff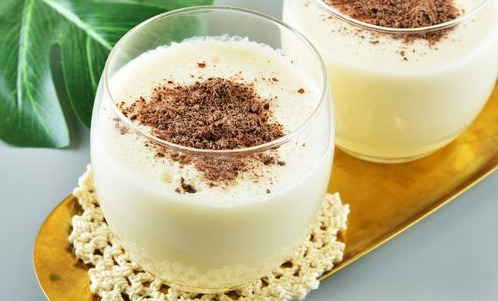 A simple, healthy, and very tender dessert – fermented baked milk jelly with sour cream. Thanks to the use of available products and an elementary cooking method, you can often feast on such a dessert.
Servings: 3
Ingredients
Fermented baked milk (4% fat) – 300 ml
Sour cream – 2 tbsp
Sugar – 4-6 tbsp
Agar-agar – 2 g
Chocolate for decoration – 30 g
Directions
Pour agar-agar into a bowl and pour 50 ml of water. Boil the agar for 2-3 minutes and cool slightly.
Pour fermented baked milk into the blender bowl and add sour cream. Add sugar. Beat the sour cream with fermented baked milk and sugar for 3-4 minutes.
Pour the slightly cooled agar into the mixture of sour cream and fermented baked milk and beat again with a blender.
Pour the prepared mixture into glasses or bowls and leave at room temperature until completely solidified.
Decorate ready-made ryazhenka jelly with sour cream as you wish. I sprinkled with grated chocolate.
Bon Appetit!
Also Like
Comments for "Fermented Baked Milk Jelly with Sour Cream (on Agar-Agar)"