Fermented Baked Milk Jelly with Cocoa
by Editorial Staff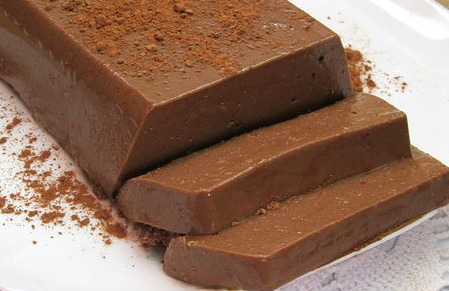 A very delicate, light and tasty dessert made from fermented baked milk with cocoa is quick and easy to prepare. Its milky chocolate taste is balanced – sweet, with a slight sourness. This dessert will delight all sweet lovers!
Ingredients
Ryazhenka – 800 ml
Sugar 100-150 g
Gelatin – 25 g
Cocoa powder – 35 g (+ 1-2 teaspoons for decoration)
Directions
Pour gelatin with 80 ml of water and leave for 5-7 minutes to swell.
Add sugar to the fermented baked milk.
After the sugar, add the sifted cocoa powder in parts.
Mix the mass very well with a whisk or mixer until smooth.
Gelatin should swell by this time.
Heat the gelatin in a water bath until it is completely dissolved, without bringing it to a boil.
In a very thin stream, immediately starting to intensively stir with a whisk or mixer, pour gelatin into the mass of fermented baked milk, cocoa powder, and sugar.
Stir everything until smooth so that there are no lumps of gelatin left.
Pour the mixture into silicone or any other form.
We put the dessert in the refrigerator for 2-3 hours.
After hardening, carefully separate the edges of the dessert from the walls of the mold with a knife, and lower the bottom of the mold into boiling water for 10 seconds. Then turn the form over onto a dish – the dessert should easily come off. Sprinkle the finished ryazhenka with cocoa dessert with cocoa powder and serve.
Bon Appetit!
Also Like
Comments for "Fermented Baked Milk Jelly with Cocoa"