Milk Coffee Jelly
by Editorial Staff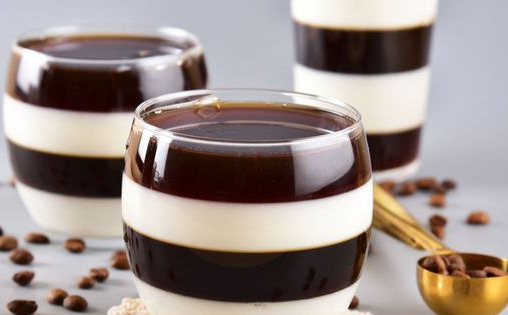 Milk-coffee jelly is a very beautiful and original dessert for coffee lovers. The contrasting combination of coffee and milk layers looks very impressive, so this dessert can be served to guests as an alternative to cake. Well, the technology for preparing such a delicacy is very simple, so you can safely start cooking!
Cook: 2 hours 50 minutes
Servings: 4
Ingredients
Milk – 500 ml
Instant coffee – 4 teaspoon
Sugar – 150 g
Gelatin – 30 g
Directions
Pour gelatin with 200 ml of cold boiled water and leave to swell.
Make coffee. Pour instant coffee with 500 ml of water, add 80 g of sugar.
Add half of the gelatin to hot coffee and stir until completely dissolved.

Boil the milk, add 70 g of sugar, and remove from heat.
Add the remaining gelatin to the hot milk and stir until completely dissolved.
Pour coffee with gelatin into glasses or bowls with a layer of about 1-2 cm. Put in the refrigerator until it solidifies. My coffee layer froze in about 40 minutes.

On the frozen coffee layer, pour milk with gelatin also in a layer of 1-2 cm and send it back to the refrigerator to solidify.
Thus, fill the glasses to the top, allowing each layer to harden. Milk coffee jelly is ready!
Bon Appetit!
Also Like
Comments for "Milk Coffee Jelly"