Coffee Milk
by Editorial Staff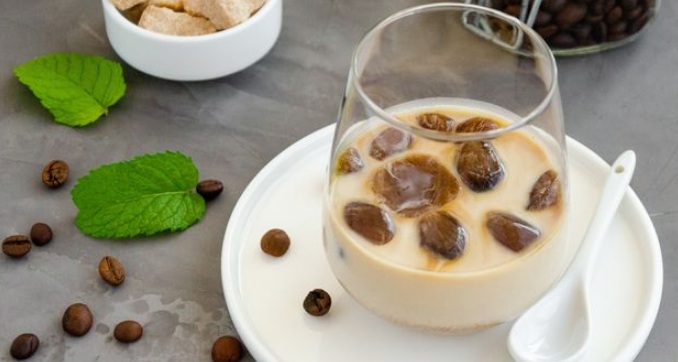 An original recipe for a refreshing drink from a minimum of ingredients – coffee milk. Such an interesting cocktail is perfect for hot summer days. Coffee cubes can be easily frozen for future use, and then preparation of such an unusual drink will take just a couple of minutes.
Cook: 15 min.
Servings: 1
Ingredients
Milk – 200 ml
Water – 150 ml
Ground coffee – 15 g (2-3 teaspoon)
Sugar – 1-2 teaspoon
Directions
If desired, instant coffee can be used instead of ground coffee. Regardless of which type of coffee you choose, the strength and sweetness of the drink can be varied by choosing the ratio of water, coffee, and sugar to your taste.
We prepare coffee in any convenient way. I used a geyser coffee maker. To brew coffee in it, pour water into the lower part. Install a filter container with ground coffee on top. We fasten the top of the coffee maker and set it on a small fire. When the coffee rises to the top of the coffee maker, remove it from the heat.
Add sugar to hot coffee and stir until it dissolves. Let it cool.
Pour the cooled coffee into ice cube trays. We send it to the freezer until it is completely frozen.
To serve, pour milk into a glass (you can also vary the amount depending on the desired strength of the drink) and add cubes of frozen coffee. We mix.
Let the coffee cubes melt slightly, stir, and serve.
Also Like
Comments for "Coffee Milk"