Dessert from Baked Milk with Fermented Baked Milk and Coffee
by Editorial Staff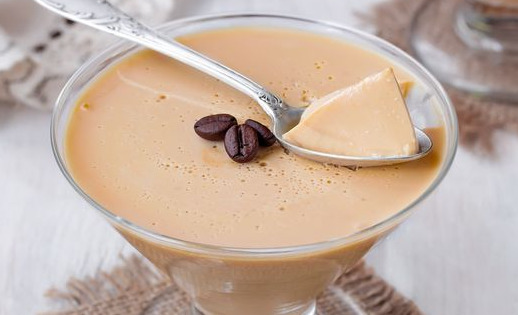 A jelly dessert with a delicate creamy coffee flavor is a healthy treat that the whole family will love. The base of baked milk and fermented baked milk gives the dessert lightness and satiety, and the jelly texture gives a delicate taste. Spoil your loved ones!
Cook: 3 hours 20 minutes
Servings: 3
Ingredients
Ryazhenka – 300 ml
Baked milk – 300 ml
Gelatin – 12 g
Instant coffee – 1 teaspoon
Sugar – 3-4 tbsp (to taste)
For decoration (optional):
Coffee beans – 6-9 pcs.
Directions
Pour gelatin into a small container, pour 150 ml of baked milk and let it brew for 10 minutes to swell the gelatin.
Boil 50 ml of water. Add instant coffee and 3 tablespoon. tablespoons of sugar. Stir well to dissolve the sugar.
Place the container with the swollen gelatin in a water bath and heat for a few minutes, stirring, until the gelatin dissolves.
Combine fermented baked milk and the remaining 150 ml of milk. While constantly stirring the mixture, pour in the melted gelatin in a thin stream. Add coffee and sugar mixture.
Mix everything well. Taste the mixture and add more sugar if needed to your liking.
Pour the mixture into portion molds and place in the refrigerator for at least 2-3 hours to cool and solidify the dessert.
Enjoy your meal!
Also Like
Comments for "Dessert from Baked Milk with Fermented Baked Milk and Coffee"