Dessert with Fermented Baked Milk and Cream, with Caramelized Bananas
by Editorial Staff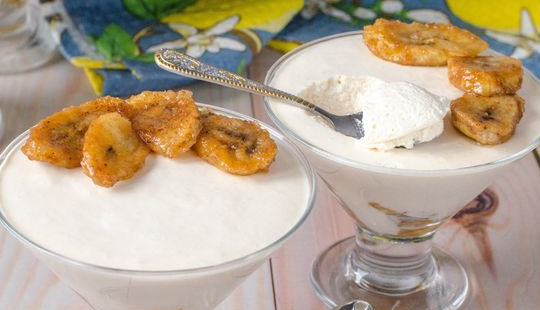 Dessert of fermented baked milk and cream, with caramelized bananas – the most delicate delicacy with a bright creamy banana taste, which is easy to prepare. The result will certainly delight you. This dessert can be a great breakfast or afternoon snack.
Cook: 3 hours 40 minutes
Servings: 5
Ingredients
Fermented baked milk 4% fat – 400 ml
Cream, 33% fat – 250 ml
Bananas – 3 pcs.
Milk – 80 ml
Powdered sugar – 30-40 g
Brown sugar – 40 g
Gelatin – 10 g
Vanillin – 1 pinch
Ground cinnamon – 1/2 teaspoon
Directions
Put gelatin in milk, mix and let it swell for 20-30 minutes.
Peel the bananas and cut them into slices.
Pour brown sugar and cinnamon into a frying pan and heat over low heat.
Put the bananas in one layer in a pan and fry for 2-3 minutes on each side, until a golden-brown crust is formed.

Put milk with gelatin in a saucepan and put on low heat. Heat, stirring constantly until the gelatin is completely dissolved. Do not bring to a boil.
Whip the cooled cream until stable peaks.
Pour the fermented baked milk into a separate bowl, pour the powdered sugar and vanillin.

Whisk.
Add milk with gelatin and whipped cream to a bowl. Beat again.
Put bananas on the bottom of the bowls. We leave a little for decoration.
We fill the bowls with the resulting mass. We send it to the refrigerator for 3 hours to solidify.
We take the bowls out of the refrigerator, decorate the dessert with the remaining caramelized bananas and serve.

Bon Appetit!
Also Like
Comments for "Dessert with Fermented Baked Milk and Cream, with Caramelized Bananas"