Omelet on Fermented Baked Milk, with Sausages and Vegetables
by Editorial Staff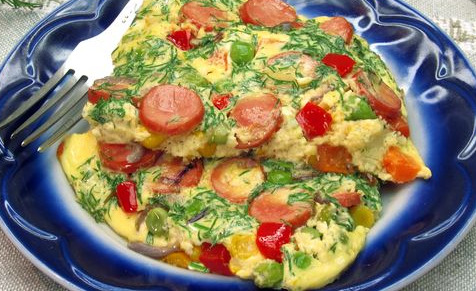 An excellent breakfast – a hearty, tasty, and bright omelet on fermented baked milk, with sausages and vegetables. The dish is prepared very quickly, the addition of fermented baked milk makes it tender and airy, and the use of frozen vegetables allows you to cook such a dish at any time of the year!
Servings: 2
Ingredients
Eggs – 2 pcs.
Ryazhenka – 120 ml
Sausages – 100 g
Frozen vegetables (I have green peas, corn, red bell peppers, carrots) – 70 g
Red onion – 50 g (1/2 pc.)
Garlic – 1 clove
Fresh dill – 10 g (6 branches)
Salt to taste
Ground black pepper – to taste
Vegetable oil (for frying) – 20-25 ml
Directions
Peel the onion and cut it into quarters.
Peel the sausages and cut them into slices.
Peel the clove of garlic and cut it into slices.
Heat vegetable oil in a skillet over medium heat. We spread the onion and, stirring occasionally, fry for about 3 minutes, until soft.
Add the garlic.
We spread the sausages. While stirring, fry over medium heat for about 2-3 minutes.
Add frozen vegetables (I have green peas, corn, red bell peppers, carrots).
Stir, fry for about 3 minutes, until the excess liquid evaporates.
Break eggs into a deep bowl.
Add fermented baked milk, salt, and ground pepper.
We mix everything with a whisk or mixer at low speed.
We wash the dill, dry it, chop finely with a knife and add to the egg mixture.
We mix.
Pour the egg mixture with dill into the pan.
Reduce heat to low, cover the pan with a lid and cook the omelet for about 3-5 minutes, until the egg mixture sets.
Enjoy your meal!
Also Like
Comments for "Omelet on Fermented Baked Milk, with Sausages and Vegetables"