Omelet "Poulard" with Sausage and Herbs
by Editorial Staff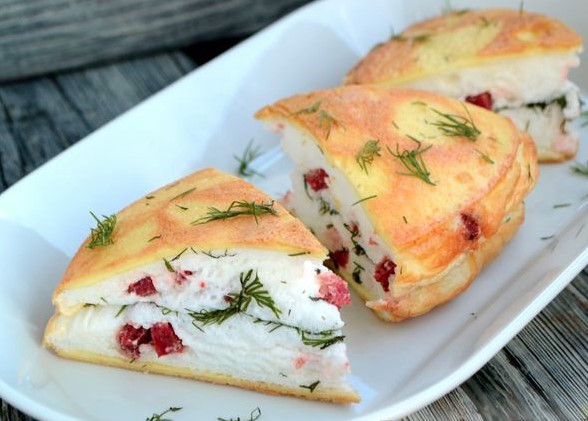 This "smart", lush and beautiful Poulard omelet with sausage and herbs is cooked in a pan using a minimum of ingredients. Such a beautiful omelet, a bit like a pie, is a great way to diversify the menu and make breakfast unusual and festive.
Cook: 15 mins
Servings: 3
Ingredients
Eggs – 4 pcs.
Sausage – 100 g
Fresh dill – 2-3 branches
Salt – 1/4 teaspoon (to taste)
Vegetable oil (for frying) – 1 tbsp
Directions
Crack the eggs, gently separating the whites into a beating bowl and the yolks into a deep bowl.
Add salt to the yolks to taste and loosen with a fork. Grease a non-stick frying pan with vegetable oil and put on heat. Pour the yolk mass into a preheated skillet, reduce heat to low, and cover.
Add a pinch of salt to the whites and beat with a mixer until foamy. As soon as stable peaks appear, and there is no transparent liquid mass, the whites are beaten.
Gently place the whites on top of the desired set, and smooth the surface. Cut the sausage into small cubes. Sprinkle the surface of the Poulard omelet with the sausage.
Gently stir in the sausage inside the protein mass using a spoon or spatula and smooth the surface. Cover the skillet with a lid and cook the omelet for about 5-7 minutes more on low heat. As soon as the protein grasps (stops smearing when touched), the omelet is ready.

Transfer the Poulard omelet with sausage to a plate. Finely chop the fresh dill and sprinkle the omelet on top. Cut the omelet in half and cover one half with the other so that the protein is inside.
Cut the resulting fluffy omelet into portions and serve. Such a beautiful breakfast will not leave anyone indifferent, right?


Enjoy your meal!
Also Like
Comments for "Omelet "Poulard" with Sausage and Herbs"