Omelet with Cabbage and Sausages
by Editorial Staff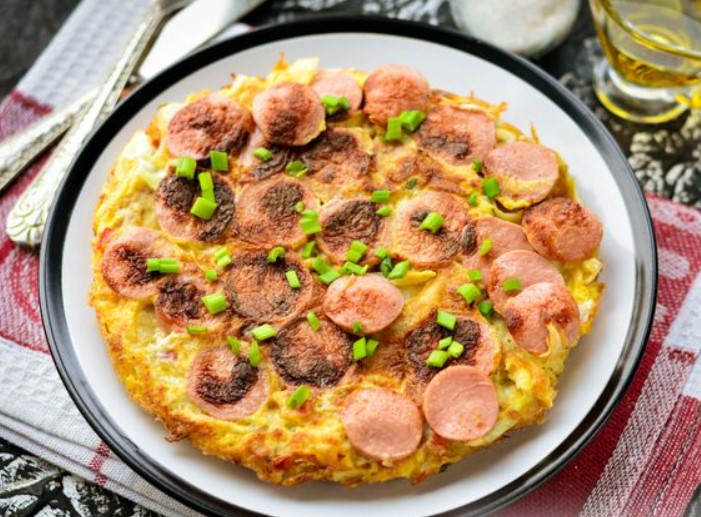 A simple, hearty and very tasty dish made from affordable and inexpensive products – an omelet with white cabbage and sausages, slightly resembling pizza in its appearance. Soft and tender vegetables combined with sausages and savory soy sauce are a great solution for breakfast or lunch.
Ingredients
White cabbage – 250 g
Milk sausages – 100-120 g
Eggs – 3 pcs.
Wheat flour – 1.5 tbsp
Bread crumbs – 1.5 tbsp
Sweet pepper – 40 g
Soy sauce – 1.5 tbsp
Green onion – 3-4 feathers
Salt to taste
Vegetable oil (for frying) – 1/2 tbsp
Directions
Prepare the ingredients for the cabbage and sausage omelet.

Chop the cabbage into thin strips.
Dice the bell peppers and chop the green onions, setting aside 1-2 feathers to serve.
Combine cabbage, peppers and onions in one bowl.
Pour in the soy sauce.
Add the breadcrumbs and flour.
Mix the contents of the bowl well. Season with salt to taste.

Beat eggs with a fork in a deep bowl.
Pour most of the beaten eggs over the kale, setting aside about 4-5 tablespoon. tablespoons of egg mixture. Stir.
Grease a frying pan with vegetable oil and heat over medium heat. Then reduce heat to low and add the omelette-cabbage mass. Roast covered for about 10-12 minutes.
Meanwhile, cut the sausages into slices.
When the omelet is browned, lightly beat the set egg mass again with a fork. Drizzle the remaining egg mixture over the omelet and spread evenly over the top with a spoon.
Place the sausage circles on the omelette immediately. Cover and fry on low heat for another 2-3 minutes.

Flip the omelet with the sausages down. This can be done with a plate: cover the frying pan with it and turn it over – the omelet will be on the plate, toasted side up. Place the skillet back on the stove and gently slide the omelet off the plate into the skillet. Fry the omelet on low heat for a couple more minutes, until the sausage circles at the bottom are browned. Then put the omelet in the pan with the sausages up.
A hearty omelet with cabbage and sausages is ready. Serve it to the table if desired, sprinkle with chopped green onions.

Enjoy your meal!
Also Like
Comments for "Omelet with Cabbage and Sausages"