Dessert with Fermented Baked Milk and Sour Cream
by Editorial Staff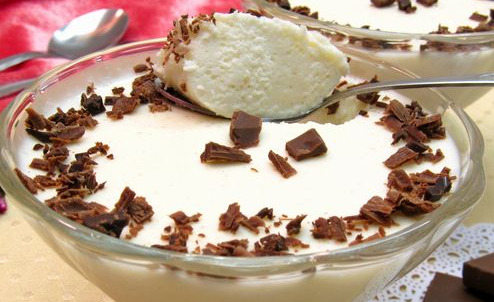 This delicate dessert made from fermented baked milk and sour cream tastes like a cross between jelly, mousse, and ice cream. This sour cream yogurt dessert goes very well with chocolate. A very tasty dessert that will conquer any sweet tooth!
Servings: 4
Ingredients
Ryazhenka – 400 ml
Sour cream – 200 g
Sugar – 100 g
Instant gelatin – 20 g
Water – 70 ml
Vanilla sugar – 0.5 teaspoon
Chocolate for decoration – 50 g
Directions
Pour gelatin with 70 ml of water at room temperature and leave for 7-10 minutes to swell.
Beat the fermented baked milk for a couple of minutes with a blender or mixer to give a more airy consistency.
Add sugar, vanilla sugar, and sour cream to the fermented baked milk.
Beat for at least 3 minutes, until fluffy. Air bubbles should appear on the surface.
We heat the swollen gelatin in a water bath for 3-4 minutes.
The gelatin should become liquid.
Pour gelatin into fermented baked milk, whipped with sour cream and sugar.
Beat well immediately for 4-5 minutes so that the gelatin is completely dissolved and does not come in lumps.
When the gelatin is completely dissolved, pour the mixture into a dish suitable for serving. Leave the dessert in the refrigerator for 2-4 hours to set.
Frozen ryazhenka and sour cream dessert, if desired, can be sprinkled with coarsely chopped chocolate.
Bon Appetit!
Also Like
Comments for "Dessert with Fermented Baked Milk and Sour Cream"