Whipped Coffee with Milk
by Editorial Staff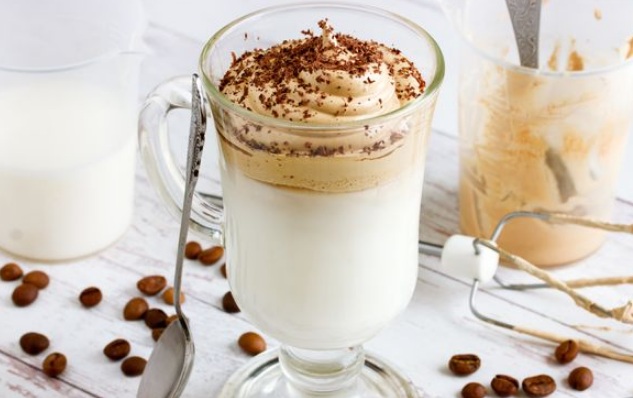 An unusual drink made from cold milk with a coffee cap (Dalgona coffee) is a new trend in cooking, which has recently gained many fans around the world for its extraordinary taste, spectacular appearance, and ease of preparation. Let's cook this delicious treat too!
Cook: 10 min.
Servings: 1
Ingredients
Milk – 200 ml
Instant coffee – 1 tbsp
Sugar – 1 tbsp
Water (boiling water) – 1 tbsp
For the filling (optional):
Ice – 3-4 cubes
Chocolate or ground cinnamon – optional
Directions
It doesn't matter what kind of coffee you choose – granular or powdered, the main thing is that it is instant and certainly of good quality.
Combine instant coffee and sugar in a deep bowl.
Pour in 1 tablespoon. a spoonful of boiling water. If desired, instead of boiling water, you can also use cold water, but then the sugar crystals may not have time to dissolve and will crunch slightly on the teeth.
Begin to beat with a mixer, gradually increasing the speed until the strong coffee solution turns into a strong foam that resembles mousse or airy cream.
Put a few ice cubes in a glass.
Pour in cold milk.
Place the coffee foam gently on top. It can be laid out directly with a spoon or using a piping bag. The foam does not sink in milk but lies on top with an air "cap".
Sprinkle with grated chocolate or ground cinnamon (optional) if desired.
Serve immediately. Stir the drink before drinking
Also Like
Comments for "Whipped Coffee with Milk"