Coffee and Milk Jelly
by Editorial Staff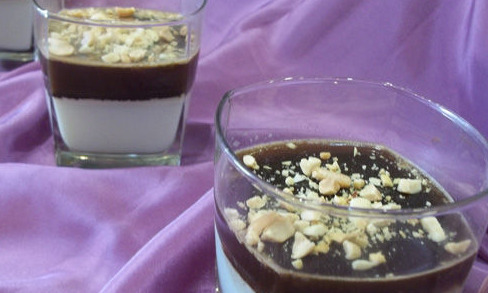 Using gelatin, you can prepare a variety of delicious and beautiful dishes that will decorate both the festive table and the everyday one. I offer all coffee lovers the simplest recipe for an elegant dessert that will not make you spend a lot and work hard at all.
Cook: 1 hour 40 minutes
Servings: 3
Ingredients
Brewed coffee – 1 tablespoon.
Milk – 1.5 cups
Sugar – 2 tablespoons
Gelatin – 30 grams
Any nuts
Drinking water – 1 glass
How to make coffee and milk jelly:
Directions
Add sugar to milk and bring to a boil. Turn off and let cool slightly.
Put 20 grams of gelatin into the cooled mass and stir well.
Pour the milk mass into the molds through a sieve. The sieve will not allow undissolved lumps of gelatin to get into the dessert.
Send the dessert to the refrigerator to set.
Now brew your coffee. Put coffee, sugar in a pot of water and let it boil.
Remove the pot from heat and let the coffee cool slightly. Then add 10 grams of gelatin.
Pour the coffee into a glass through 4 layers of cheesecloth, which press down with an elastic band (for money).
Pour the coffee into tins and send the coffee and milk jelly to the refrigerator to freeze.
Sprinkle the frozen coffee and milk jelly with crushed nuts.
Enjoy your meal!
Also Like
Comments for "Coffee and Milk Jelly"