Coffee Jelly with Lemon
by Editorial Staff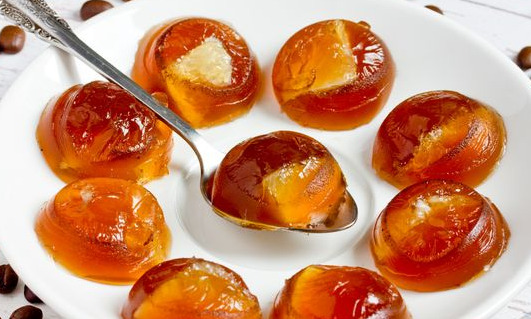 If you like to drink hot coffee with lemon, then you will love this dessert option! Having tasted coffee jelly with slices of fresh lemon, you will present your taste buds with a bright mix of sweetness and sourness!
Cook: 1 hour 50 minutes
Servings: 3
Ingredients
Ground natural coffee – 2 teaspoon
Lemon – 1/3 pc.
Instant gelatin – 1 teaspoon (5 g)
Sugar – 2 teaspoon
Water – 130 ml
Directions
Pour the ground coffee into a cup or bowl.
Boil 130 ml of water. Pour boiling water over coffee, add sugar, stir and leave to cool completely.
Then strain the coffee.
Pour instant gelatin into strained coffee, stir and leave for 5 minutes to swell the gelatin.

After 5 minutes, heat the coffee in the microwave until the gelatin is completely dissolved, but do not bring it to a boil.
Wash the lemon, wipe dry and cut into small pieces.
You can prepare coffee jelly with lemon both in glasses, bowls, bowls, and in portioned molds for ice or sweets. I used the last option – silicone molds in the form of hemispheres. Divide the lemon slices into the tins.

Pour in coffee with gelatin.
Place the jelly mold in the refrigerator until the jelly hardens. The time will depend on the size of the jelly. My jelly hardened for about 1.5 hours.
Remove the finished coffee jelly from the molds and place it on a plate.
Enjoy your meal!
Also Like
Comments for "Coffee Jelly with Lemon"