Lemon-Ginger Jelly Based on Green Tea
by Editorial Staff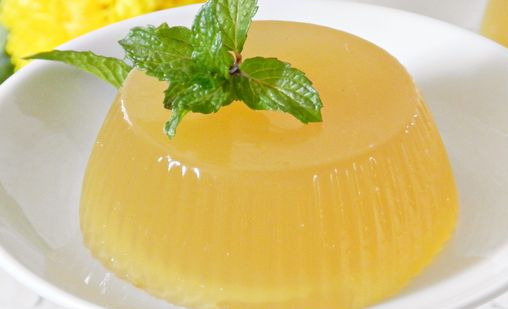 Lemon-ginger jelly is a light dessert based on green tea. The perfect combination of lemon and ginger guarantees a pleasant taste and delicate aroma. A very appetizing sunny treat!
Ingredients
Ginger root – 20 g
Lemon (zest) – 1 pc.
Loose green tea – 1 teaspoon
Sugar – 30 g
Gelatin – 15 g
Mint – 2-3 sprigs (optional, for serving)
Directions
Wash the lemon well under hot water, rub with a brush. Then wipe the lemon dry and remove the zest from it.
Peel the ginger root and cut it into small pieces.
Pour 450 ml of water into a small ladle, add sugar, and put on fire. Bring to a boil, stir to completely dissolve the sugar.
Add ginger and lemon zest to the water. Bring to a boil and remove from heat.
Pour in green tea. Cover the ladle with a lid and leave for 15 minutes.
Then strain the liquid through a sieve. Add lemon juice.
Pour 50 ml of liquid into a separate container. Pour gelatin into the liquid, stir and leave for 30 minutes to swell.
Then put the container with gelatin in hot water and, stirring, bring the gelatin until completely dissolved.
Combine diluted gelatin with tea.
Pour the jelly into silicone molds and refrigerate for 1 hour or longer until completely solidified.
Transfer the ready-made lemon-ginger jelly to plates, garnish with mint sprigs if desired, and serve.
Enjoy your meal!
Also Like
Comments for "Lemon-Ginger Jelly Based on Green Tea"